Earl's Recruitment and the 127th Battalion
In 1916, Lorne Campbell, Earl's cousin came to King on a recruiting assignment for the 127th Battalion, York Rangers of Aurora and signed up Earl on February 14, 1916 – Attestation Paper at an auction sale in a barn on the same farm Earl purchased some nine years later in 1925. The farm was located on W ½ , Lot 8, Concession 4 in King Township.
The 127th (12th York Rangers) Battalion, CEF was a unit in the Canadian Expeditionary Force during the First World War. Based in Toronto, Ontario, the unit began recruiting in late 1915 in York County. After sailing to England in August 1916, the battalion was designated the 2nd Battalion, Canadian Railway Troops on November 8, 1916. The 127th (12th York Rangers) Battalion, CEF had one Officer Commanding: Lieut-Col. F. F. Clarke, DSO.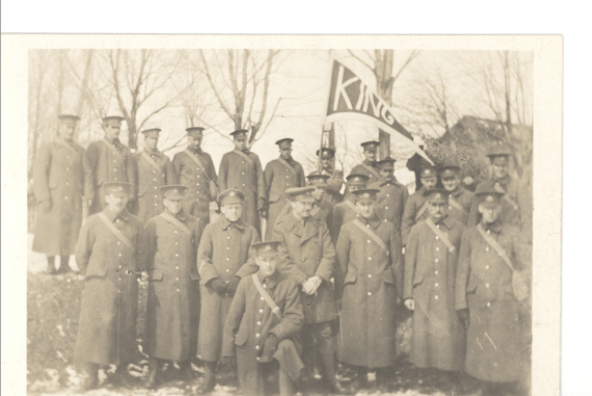 Frederick Fieldhouse Clarke was an engineer and surveyor in northern Ontario. He was born on 22 August 1878 in Hamilton. He served for three years with the Royal Canadian Regiment and nearly twenty with the 12th York Rangers. In January 1916, Clarke was appointed commanding officer of the 127th Battalion of York County.
As railway troops, the 127th Battalion specialized in building light railway lines close to the front , a Canadian specialty, for the rapid movement of troops and supplies from established railway heads. The battalion prided itself on its rapid bridge-building skills and an improvised turntable it crafted on several occasions.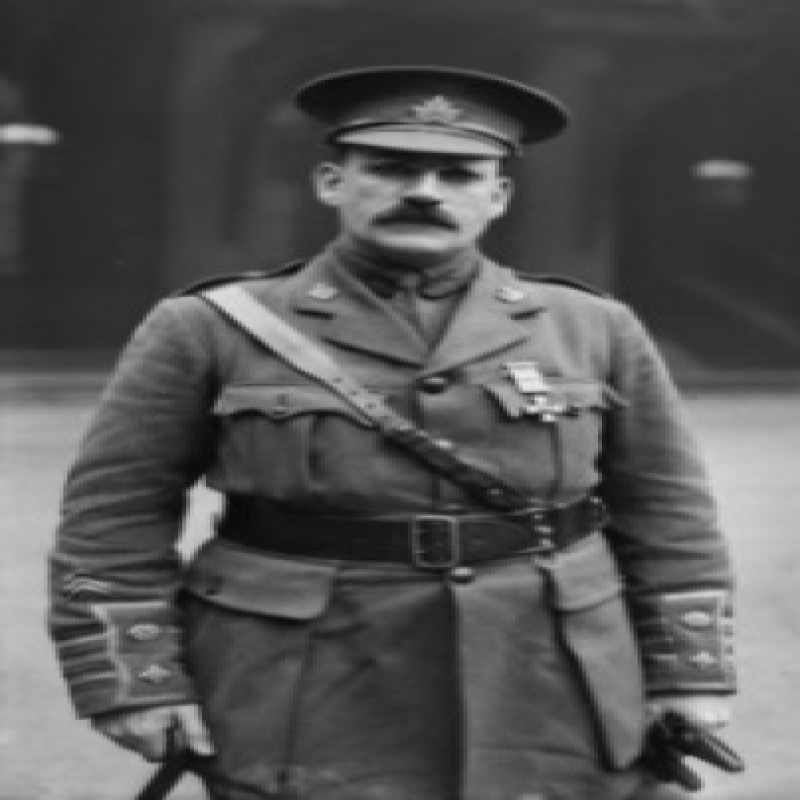 According to Fred F. Angus article entitled The Canadian Railway Troops in World War 1, written in Canadian Rail, November-December 1993 issue Angus lists the first five battalions of the Canadian Railway Troops:
"The 1st Canadian Overseas Construction Battalion, which had reached France in October 1916 and was working on Standard gauge railways, became the 1st Battalion, CRT The 127th Infantry Battalion, then at Bramshott, England, became the2nd Battalion, CRT and proceeded to France on January 11, 1917. The 239th Battalion became the 3rd Battalion, CRT. The 4th & 5th Battalions, CRT, were organized at Purfleet, England and were sent to France in February, 1917."
"Things were now moving at ever-increasing speed in anticipation of the campaigns scheduled for 1917. In March, 1917 it was decided to organize five more Battalions of the Canadian Railway Troops, and as more units arrived from Canada they were sent to Purfleet to be organized. By April 1, there were six Battalions in the file, and by the end of June, 1917 all ten were fully operational. So quickly had official thinking turned around that the majority of these units were employed on light railway construction and maintenance and, from mid-1917 until the end of the war, all light railway construction on the British Western Front was carried out by the Canadian Railway Troops."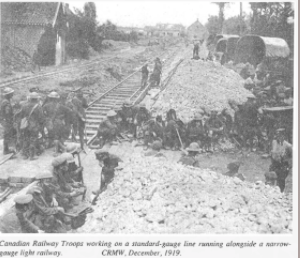 Quotes and Letters
There were training camps set up in Ontario including Camp Borden in Barrie and Camp Denison in Weston. These camps acted as training grounds for the soldiers before they were shipped overseas. The soldiers were equipped with a bayonet, entrenching tool, ammunition pouch, haversack and a pack with a greatcoat and blanket all carried on their back attached to a shoulder-harness with straps and belt.

1916 Postcard sent from Camp Denison by Earl

Back of postcard

Camp Dennison, Weston, Ontario - Major, Colonel, Major

August 1916 Camp Dennison, Weston

 

Sailing from Halifax on the RMS Olympic

On Jul 31, 1916 Pte Earl Campbell wrote to his sister Merelda from Camp Borden:

"We all got up here safe and sound. It was some hot day Sunday. In both ways to, you should see the bunch of men up here 60,000 in all. We started rife shooting to-day been it all-day at the ranges." "I am one of the best shots in my Company B Coy. I made out 60 points out of 75. Three fellows in B. made 72 that was the highest."

"… we sail Thursday night (Aug 3rd). The 134th Highlanders will sail with us on the same ship."


On Aug 3, 1916 Earl and the 127th Battalion set sail on the RMS Olympic from Halifax.

David R. Gray in "Carrying Canadian Troops: the story of RMS Olympic as a First World War Troopship" notes that "Olympic" was an important part of Canada's war effort. The Olympic was able to accommodate close to 6,000 troops at a time. Olympic made 10 round trips from Liverpool to Halifax between March and December 1916. On the return voyages she carried wounded soldiers and civilians back to Canada. For the next two years Olympic continued to ferry Canadian and American troops across the Atlantic, and in 1919, brought the victorious soldiers home."

Earl's impression after arriving in England

Aug 31, 1916 Earl wrote to Merelda saying:

"We arrived across the waves allright. And also arrived in Camp O.K. Can not believe that I am in England. The sun shines just like it did down at King" "The English soldiers and girls use us Canadians very good" … " We have very good places to sleep in here. They called them huts. There are thirty-two men in each hut, we sleep on a board floor instead of ground". "We had great meals on the Olympic all right, we even had oranges and apples at supper times. Two eggs apiece for breakfast and all the meat we could get."

In the letter dated September 26, 1916, page 8, Earl comments on the huts: " They gave us all a bed with a tick full of straw. I put pine brush in mine and grass which makes a good bed. We all made a kick for sleeping on the cold floor. So they got beds for us. They are 6 inches of the floor no sides on them. Many a night I would wake up and find myself laying on the floor for they are only two feet wide."

Life in Camp, Witley, Bordon, and Bramshott Military Camp

Upon Earl's arrival in England he was assigned to Witley Camp in Surrey, England.

Witley Military Camp, was an army camp set up on Witley Common, Surrey, England. The camp was 7 miles from Bramshott and appears to have been set up in the early part of the First World War. Camp Witley was one of three camps in the Aldershot Command area; the others were Bordon and Bramshott. Canadian soldiers during the war used Witley Camp as a training base and it was also used as a "rest" camp for soldiers away from the front lines. Earl in his October 24, 1916 letter from Witley Camp

Earl sent letters back home to King from Witley Camp on Sep 26, 1916, Oct 4, 1916, Oct 25th, 1916, Oct 29, 1916 and Nov 18, 1916.

Postcard included in Earl's letter dated October 29, 1916.

 

The four month Battle of the Somme was a major Allied offensive that was fought from July 1 to November 18, 1916.

Battle of Courcelette occurred September 15-22, 1916

Battle of Thiepval Ridge occurred September 26-30, 1916


Sep 26, 1916 letter from Earl to Merelda, Witley Camp, Surrey England.

"Dear Sister,
I just received your letter this morning. The first I had from Canada. You don't know how glad I was to get it. I fairly jumped when I was your writing on the envelope…. Well Merelda I heard good news last-night was a 128th fellow came into my hut bringing me the news that Harold was wounded again from shrapnel. Harold told him to hunt the 127th up and give me his address."

Earl in his letter mentions on page 3 his pay: " I am payed 4 pounds a month till I get in the trenches".

In this letters to his sister Merelda, Earl mentions several King soldiers including Leonard Robb and also on p. 5 – Sam Hall: " I saw some awful sights in the Folkstone Hospital, fairly made me shiver to look at them. I had a long talk to a fellow by the name of Sam Hall from Schomberg, he knows Daddy he remembers seeing him throughing (throwing) the shot down the Seventh someplace"… He is in awful state, one arm of right up close to the shoulder. And his cheek bone is cut. You people over there do not know what this war is doing"

"The papers you can't go by them at all. Last night there was a Zepplin raid close to our camp, the night before was another one two of them were brought down."

A Zeppelin is a type of rigid airship named after the German Count Ferdinand von Zeppelin who pioneered rigid airship development at the beginning of the 20th century.

According to Zeppelins over Sheffield entitled "The Raid" mention is made of the raid that Earl was referring to in his Sep 26, 1916 letter.

"During the early afternoon of Monday 25 September 1916, five Zeppelins took off from their bases in northern Germany with orders to attack England. Three of the airships headed for London and the South of England. The remaining two, L-21 and L-22, were to attach the North Midlands industrial towns. Many of Britain's leading armament and munitions firms were based in Sheffield; it was therefore a prime Zeppelin target. "

Postcard of Zeppelins over London


Earl continues in his Sep 26, 1916 letter p.6 to recount previous Zeppelin attacks

"And a couple of weeks ago one was brought down. I was out to see that one when on my leave. A bomb can make a awful mess of a town. I saw pieces of wood from houses thrown half a mile away. A key out of a piano was found fully a mile away. The key was valued at 6 pounds." (Note that Earl was only paid 4 pounds a month)

It is the one Lieut Robinson brought down. He was given the V.C. (Victoria Cross) and payed a large sum for doing it. I did not see him but I saw his driver. I was out to see the day after the fight thousands of people were there."

Two newspaper clippings of the Zeppelin Raid

In Sep 26, 1916 p.10 letter Earl mentions " We were inspected by General French last Saturday and yesterday by Old Sam Hughes the best place for him is a bullseye for the Germans. He gave Col. F.F.Clarke a calling down yesterday and all us 127 men started cheering and booing at him for doing so. We told him to go back to camp Borden and die in the sand. General French is a nice man and Gen Alderson and Prime Minister of Ontario inspected us three weeks ago. They gave us a great name. Gen French gave us name of the best Batt at Witley. He said he would not split this Batt. So we all will fight to-gether."

It was not to be that the Battalion would fight together as Earl's letter dated October 12, 1916, p. 2 : "The 127th Batt. has been broken up in drafts 60 men out of each Coy. A.B.C.D. were picked out this afternoon to go as a Construction gang. Such as Carpenters, Manson, teamsters and all that kind of work. I was picked for to go. But Jenkins took me out. He said I was to handy with the rifle and bayonet to go. They picked all the poor shots out. And the slow and weary when (sp) on a march. T.Wise, Frank Gamble, and old Happy Platte are the only ones you know that are picked for it. Old Happy got put in it on account of his slowness."

Earl continues in the letter "240 men are to be picked tomorrow to go as a I.N.F. Draft right away. If Wallace and Paddy get picked for it. I will volunteer for it to. My name was called in front of the Batt. to go as a sniper. I kicked up a deuce when I was that none of my chums were with me. I got Major Bell to take me out. I told him I only won my good shooting by chance."

In his Oct 12, 1916 letter on p.2 Earl writes about life in Camp and his training. He also mentions at the end that he is in 5th Platoon instead of 6th. " We carry 90 lbs on our backs now. We have not reached 125 lbs yet. It is coming though. Last night all of B.Coy were out on night manoeuvres. We were supposed to be in at 11 o'clock. It was close on to 2 o'clock when we got in to bed. Capt Jenkins and Lieut Draper got lost and took all over the whole country up mountains through buses water and even over the tops of the thimbleberry bushes. Jenkins told us to sit down and rest till he and Draper went to find out where we were. We had nothing to eat since dinner time. And that was not very much we had 1 Onion, a piece, 1 piece of cheese, 1 slice of bread with no butter. So you know how hungry I would be lucky there happened to be a large thimble patch not for. I must have eaten 3 or 4 pints of them."

Earl on p. 4 " Well Merelda you want to know if I want any clothes. Don't send me any underwear or top shirts. I am loaded down with them now, but I would like some socks. I have been mending socks it is a nice job jabbing my fingers with the needle."

October 12, 1916

Oct 17, 1916 letter from Witley Camp, Earl writes: "The Canadian mail comes in here twice a week, Tues, and Thurs. There certainly was a lot this morning the bags were so heavy I had to run with them to get there all the quicker. Like Art Walker use to do"

"240 men were picked for a Construction gang to go to France right away. Platte was picked for it. Russell Parker and Paddy and I got him out of it."

On page 3 of his letter Earl speaks of General Sam Hughes: "The old 127 is all going bughouse. It is all through Old Sam Hughes the day he inspected us. He doesn't think anything of Col. Clarke. He is going to get shot the next time he comes around here."


In the Oct 24, 1916 p.3 letter he refers once again to being picked as a sharp shooter and the fate of the other King boys. "I have some bad news to tell you. Wallace and Paddy are parted from me at last. 500 men are leaving for France this afternoon. They were up to our measeley hut bidding us goodbye last night. Bob Wilkins and I are the only two King fellows left. They picked Bob, Frank Platte and myself for sharpshooters or snipers. We were to go to France on November 1st. But one of our fellows caught the measles in our hut. So they locked us up for 15 days. So we will not see France for a while yet."

Oct 25, 1916, p.2 reference to Earl going to France as a sniper, but they are in quarantine from a measles outbreak. "I don't know when I will be going. I am picked for a sniper. I don't think I can get out of it. I would give anything if I was with Wallace, Paddy and Sid Goodswain. I am going to try and get with them anyway after I get out of this measley jail."

Oct 24, 1916, p.5 "They give us some rotten rabbit for dinner on Sunday. It was the rottenest stuff I ever did taste. I would rather eat dogs than it. You should see us fellows is here at meal times every man for his self you know. I will be ashamed to go back to Canada. Instead of cutting butter with a knife we grab a hold of it with our hands and pull it off."

Oct 29, 1916, p.2 "Dr. Hillery was in this morning sounding all of us. I pass all right just four failed out of the 33. He would not tell us if we were going to France. He said we were going to leave Witley. Two Battalions came in last night from Canada. So we got to clear out of here. And look for another home The only officers we have around here are Major Bell, Capt Jenkens, Major Campbell, Lieut Wallace, Lieut Clarke and Old Major Agdun. Lieut Beck went to the front when we landed here. We heard last week he has been wounded. He is the first of the 127 Batt to be wounded he was only in the firing line 7 hours until he was wounded." "The only Sergents we have now are Herb Tack and Serg McKenzie from Woodbridge. Serg McKetrick has been sent to France with the draft. There are only 70 men here out of B.Coy. 16 out of A. Coy, 23 out of C.Coy. All of the D.Coy has gone with the draft. So you see the 127 is no longer a Batt."

Nov 21, 1916 Earl's letter comes from Bramshott Camp : "Well I am out of quarantine now was let out yesterday. As soon as we were let out a Sergeant of the 134th Batt. marched us down to Bramshott 8 miles with our heavy pack to carry. It was a hard march for us 36 fellows after beening penned up so long. We were in 31 days had no work to do at all. Only play football in the afternoons. We were a tired bunch of Tommy's when we got in. Tis a dandy camp away ahead of Witley camp. The hut we were put in is a swell on to all big pine trees around it. But believe me it is someplace for mud. I have been mucking through it all day to-day. Bayonet fighting, bomb throwing, trench warfare and physical torture on the hands down in the mud."

Nov 29, 1916, letter from Earl comes from Bordon Camp . "I just came in off a 12 mile route march over the country." "We are having another medical exam to-morrow. It will be our last one in England I expect." P. 2 " We are certainly busy since we came to bordon Camp. And they are getting awful strict. The Emperial Soldiers are close to us. I guess that is why our Officers are getting so strict. 2 days pay stopped if we move our head when standing at attention. They have not got me yet."

Nov 30, 1916, p.2 Earl writes "I have'nt heard from Paddy, Sid, or Wallace since they left for France. I wish I could join them again. Billie Bowler is looking for a letter from you. Art Trent, Pete Machell are in France. Harry Bovair is with me in my own Coy yet. Jenkins, Major Bell, Lieut Clarke, Major Campbell, Lieut Draper, Lieut Wallace, Lieut Johnson, Serg Jack and McKiceric and Serg McKenzie of Woodbridge are all with us yet. Your Lieut was wounded some time ago in France. Beck of Richmond Hill."

p.3 "I can hardly waite until the day comes for me to go and fight. I could have been there long ago only for Harold. Harold told me if I went this fall he would go with me. I don't want him there again." …. "I am getting my manners back again since we have been moved into houses. I spread my butter with a knife instead of my fingers." … "We made the English people look to-day allright. We were out on a route march through small villages in one of the Villages which we pass through our band played O'Canada. It is a very easy piece to keep instep to. And we showed them if a Canadian Band was any good. And that if the men were to. We have a dandy Band the same fellows are in it."

p.4 Earl writes of the duties of a soldier in Camp: "I have been scrubbing our house out to-day. Every Saturday we got to do our house cleaning. We try and do it all in the forenoon, then we have the afternoon off for football. Sat and Sundays are the only two days we have a little peace." … p.5 "There were 20 teams of heavy horses brought into our Camp Friday. Allso a train load of harness and saddles, guns, ammunition, spurs and such like. So, you see we will not be going as Infantry men. Engineers are what we are beening put into."

"I have been playing up sick for 3 days now on account of my boots. There are no soles in them. I am going to play up sick until I get a new pair. About a hundred of us fellows are doing the same. A carload came in Friday so I will be on the job again Monday. "

Jan 4, 1917 is the first letter written by Earl that was sent from "Somewhere in France." He writes to his sister Mereleda "Last night I received your 22 page letter. I was sure glad to get it, no my eyes never got sore reading it. I had 9 letters last night what do you think of that. They were all brought in to me together. We were being payed at 8 o'clock last night and the letters came in just a little before 8. I felt like letting the pay go and reaing my letters. But I thought the 15 Francs looked as good as the letters so I went and lined up for it." " I am keeping quite well France is a very healthy country lots of fresh air. This winter has been the coldest for 16 years they say, put me in mind of the few days up north with Colin. Well this is Sunday and I have the day off. 8 men out of each platoon that did not play up sick during the week gets off duty to day. So I am one of them." The bottom portion of page 1 and the top of page 2 has been erased maybe from the censors.

On page 2 Earl continues to tell Merelda …"They say Canadian soldier Dey all goot, Dey goot soldier they make us tro up our hands in de bayonet charge. The Saxons don't like to fight. The bombardment last night was the worst I heard yet. It was something awful the noise. These here 15 inch guns can certainly bark some. Our hut was on the tremble all the time. And we are six miles from the Howizers. There is one big fellow about 2 mile down the track from us She would speak about every 5 minutes. We would stick our heads out of our blankets and say 'there goes Old Lizzie again' she jarred 4 candles of the window."

Jan 14, 1917, Somewhere in France "Dear Mother, You all will be surprise to hear that we landed somewhere in France. It is a pretty place far ahead of England. But the mud. We left Blithy the day of your birthday the (censored) of Jan. (the actual date in January was crossed out by the censors) The trip was great across the Channel a rough sea thou again. I sit down to write this the 18th. We had to move farther up the line on the 14th. So I had not time to finish the letter. There is about 3 inches of snow now all fell in one night. But before it came we could see women and men working in the fields as we pass through on the train."

In England the mail arrived twice a week, Earl remarks that since they moved into France they have not received any mail (p.3) "Did Henry and Merle come down this winter? I have not heard from them for a long time. None of us have received no mail since we came here. But expect it to come in any day now. The mules are still alive yet. A few of them were sea sick comeing over." "Well Mother I will have to close now I cannot tell you all I would like to. Lieut Jenkins is our Company Censurer. " Now be sure and write often and tell them all to write letters from home will be as good as gold here." Earl includes a p.s. "excuse this awful writing I am writing on my knees." And signs off
"Sap. Earl Campbell, No. 779051, B.Coy, 127, 2nd Rly Battalion, B.E.F., France."

Field Service Post Card sent from Earl, Jan 21, 1917

Jan 21, 1917 Earl sent his sister Pauline a Field Service Post Card. Field Service Post Cards were issued to members of the British Expeditionary Force (B.E.F.). Field postcards were a form of censorship since soldiers were not allowed to divulge information in letters or postcards about their whereabouts when fighting on the front line in World War 1. Key phrases were pre-printed and the soldier could quickly indicate by deleting phrases that did apply, date and sign their names. Since there was no danger of strategic information being disclosed, inadvertently, this kept the Censors happy.

Mar 26, 1917, Somewhere in France. Earl mentions to sister Merelda that they have finally received some mail. There were no letters between January 21st to this one received on March 26th. As Earl explains he was in the hospital between February 18th and March 21st.

"Well Merelda, I got some mail at last. Last night the mail came for us. I the lucky guy got twelve. Only yours, Pauline & Flossie's were dated Feb. 13th. I received Merle's ok it was dated Feb. 28th. You can't imagine how happy I was to get them." " Tell Mother the $2 she put in Merle's letter was not to be found. Maybe she forgotten to put it in. I had two letters from May also a bunch of papers, a plug of Shamrock was rolled up in with it." " I had sometime in Hospital with Clarence and F. Lucas. We came out the 21st of March went in the 18th of February. Lieut Jenkins said we were as fat as a bunch of pigs ready for market. We join our Coy again and the next day my Birthday. We all packed up and marched 9 miles to another place. I been on many a march but none like this one. I'll not forget my birthday in France."

"We are at a place where the Jerry's had been in 14 days ago. They sure like to ruin things. They tore up the railroads and hid the steel rails. They … up big steel bridges so we would have to work hard at getting through. We are now at the wide gauge track. We made a good name at building the narrow track. So we were put on the wide gauge. A number of French soldiers are guilding one beside us. Yesterday while I was sitting on the bank watching the rest work I took my steel looking glass and shone it in one of the Frenchies face. He yelled & jumped around. He thought the Germans had him for sure."

Mar 29, 1917, p.1 letter to Pauline from Somewhere in France "No Pauline I do not see any bullets flying over my head. They come so slow it is hard to see them. I hear lots of wiz bangs but I watch out and not get in the road of them. I didn't believe I could stop one."

Apr 7, 1917, Somewhere in France, p.2 " I watched a G Plane come down this morning. Sure was a great sight. We threw the pick shovel & Jacks on the track and stood about an hour with our mouths open about 8 inches.",," Well Arch, I must close now and will look for a answer soon, If you find any chewing or smoking laying around be sure and put it in the next box that is sent. I can do without chewing, but dam if I can do without the pipe. The closest town is about 15 miles away. So you see it is hard to get it. What is issued to us is not enough."

Apr 13, 1917, Somewhere in France p.1 Earl writes of some of the lads from King. "Well I found where Wallace & them are now. Some of our lads were down to see them last week. Corp Lloyd of our Coy was talking to Wallace. Next day I am off duty I will take a walk down to see them. And I found where Percy Butler is. I was talking to a fellow that knows him well. He is only about 14 kilometers from us. And I have not seen F. Platte for two months. I do not know where D.Coy is at all.

p.2 "We have a Coy of Australians working with us the 30th Batt. One of the first that came out. And there are 3 Coys of Q.V.R. Queen Victoria Rifles with us. Thye are all the time singing. Blithy, Blithy, Blithy. I want to go back to Blithy, Blighy is the place for me."

Apr 26, 1917, France, written 3 weeks after Vimy Ridge. Earl in his letter speaks of the battle but he is unaware of the magnitude of the battle.

"I had not time to write a long letter. But as long as you hear from me once a week you will know I am still alive." Suppose you have seen by the papers that Lorne has been wounded. He is the third B.Coy lad wounded. It is only a slight wound so tell them not to worry about him. He was hit with shrapnel on the breast near his collarbone. He is lucky to get it so light. I was only 40 rods from him at the time. I could hear Old Fritz putting the shrapnel & wizzbangs over. Some of it would sing the tune of Tipperary. I think he will soon be back with us. Leslie S. had his tunic sleeve cut one day by the same medicine. I had the witts scared out of me by a shell to. But am over it now. Ha,ha,

We made another 5 mile move again. We are in a dandy place now. But pretty noisy – by times. We play football every evening. B.Coy play the R.E. Royal Engineers tonight of course I have to play. Lieut Jenkins, H. Bovair, H. Boys also are playing. I must go down and see the lads soon. L.Robb is suffering from shell shock. But don't let his people know. He is not very bad now.

One of our D.Coy lads dies in Hospital to-day Harris from Aurora. He was hurt in a mine of Fritz's which blew up. Allso big Wagstaff of Woodbridge is wounded. Dad will know him. He played with the 127 football team at Aurora last summer."

Jun 16, 1917, Somewhere in Belgium writes to Merelda:

"I received your 15 page letter of May 22nd tonight. 60 of us B.Coy lads have been up the line for 6 days. Came back to our camp to-night. Glad to get back believe me. We put in a very exciting time allright. We were very lucky never lost no lives tho. 3 were wounded and 9 gassed. The three wounded went to Hospital and one of the gassed went also. Fritz sent gas over to us 3 nights out of 6. We were working one night started at 10 o'clock, about 11 o'clock the gas came. Dock Boys and I had left our gas helmets about 20 rods away from us. I tell you we were not very long getting up to them. We both had our lungs full of it by the time we got them on. We were about a mile from our dugout. And the trick was getting back with the helmets on we could not see two feet ahead of us with them on. And we dared not to take them off. We both layed down in a ditch beside the track for over two hours. I heard Harry Bovair yell at us to come on. So we started on a very slow march to our dugout. If I tripped over the rail ties I bet I tripped 50 times. I will never forget that night.

My head was as big as a barn the next morning. It is awful stuff. I can't describe what it smells like. But it is worse than the skunks I use to catch. He threw lots of shells at us, but our guns put 200 over to his 50, that shows how he is getting it. Once more I was lucky a shell burst close to me and a piece of it cut clean through my tunic just beside my pocket, tore the skin off my leather belt I wore underneath. Only for it I would have been in Blithy, I guess."

p.2 "Chester Ward came up to our Camp to-night. He is in the 3rd Canadian Labour Batt. they are camped about 2 miles from us. He was awful glad to see us King & Laskay boys again. He is the same old boy. The 4th C.R.T. are close to us to. I do not know any of the lads in it tho."

Jun 18, 1917, Belgium letter to Earl's sister Pauline "We are having a few days' rest. I do not know when we will be going up the pike again. I sure had an exciting time of it last wk. I am all over the gas now, feeling fine. H. Boys is well again to. I had my tunic cut with a piece of shrapnel. But I think it is quite well again. It did not get a Blithy" .

Jul 2, 1917, Belgium p.2 "Supose you heard of Harold Boys being wounded in the arm. It is not bad. He is with us here so you see he did not have to go to the Hospital." " Big Tom Reinford the man John Lawson had hired was wounded he is in Hospital he got a dirty one in the neck. My chum of A. Coy was killed last wk. Gordon Tait of Toronto. And two others of A.Coy was killed the same day. It is fierce around here. Harold was here last year."

Jul 5, 1917, Somewhere in France to Merelda & all "We worked all last night. So we have to-day off. I crawled out of my bed at half past three this afternoon. We had some rain last-night for the first in 8 wks." " I did something last night I never done before. I played football under the Fritz`s shell fire he broke quite a number of shrapnel shells above our heads. One of our balloons her was after. I think not us. One of the RE men said 'Lord Brimmy mate. I will have to get my steel Lizzie on."

Jul 17, 1917 Belgium from Earl to Mother informing her that he had been injured:

"Dear Mother,
Well I got it at last. We were working up the line yesterday. He was putting big stuff at us all day. A 8 inch burst close to me a splinter of it made a way through my steel helmet into my head. It is not very bad. The M.O. down here says I was awful lucky. I don't know if I will be going to Blithy or not. Hope so, ha,ha,ha. I am in Hospital in Belgium. I am the only Canadian in it. Well must close Mother don't worry about me. I am safe now. Supose the men will be busy haying now. Was it a good crop this year? All the rest of the boys were fine when I left them. Harry Bovair and Art Brown stuck right to me when I fell. I can never be to good to them now."

Jul 21, 1917 letter informing the family of Earl's injuries

"Deeply regret to inform you that 779051 Sapper Earl Campbell "Services" admitted to 20 General Hospital, Dannes Camiers, July 19th, 1917 gunshot wound to the head. Further word will be sent when received.
Signed, Ottawa"

Jul 21, 1917 France letter to Merelda from Hospital

"You will be wondering why I do not write. I just got out of bed to-day for the first. I am feeling fine. Does not bother me only at times. The dangerous part is over. I am in a very pretty place 15 minutes' walk will take me to the sea. I left the C.C.S the 18th. I had a nine hour ride in the R.Cross train down here. The ward I am in there are some Canadians. 3 from B.C., 22nd Batt., 4 from the 13th Canadian Highlanders and 1 from the Q.O.R, Toronto. There are 36 of us in the one Ward. We are used great. I will stick here as long as I can. Maybe I will be going to Blithy, hope so anyway….. I will not get my mail for a week or so now. I will write to my Company and tell them to send it on." There are a bunch of Americans training [the next portion had been erased by the Censors] . They wear a swell uniform. They will make old Fritz toe the mark. He is a hard old nut allright. Harold was right when he told me in England that there would be heavy fighting this summer.
Well Merelda I will close for this time will write soon.
My address is
Sap. E. Campbell
No. 779051
Ward S.3
20th General Hospital
B.E.F. France"

Jul 24, 1917, No. 6, C.C. , France

"Dear Mother, Well I must write to you again and let you know how I am. I have been sent to a Convelscent Camp came here yesterday. I was examined this afternoon. I am sorry to say I have to go back to my Company in Belgium. I was sure I was going to get a trip to Canada. I nearly knocked me down when the M.O. marked 'A' on my paper. Active it means. I go back tomorrow night. Back the line with the best of luck. I think I will be able to get a pass to England when I go back. Will try hard anyway. Jim Jenkins will have something to say about me getting a pass. He and the Col. are the only men, gentlemen I should say in the Battalion."

Jul 26, 1917, Can Base, France

"Dear Brother, I wrote home and told Mother that I was leaving for my Company the next night. I didn't go to my company. I was sent down to the Canadian Base. I am not ready to go back yet, maybe I will be getting my discharge. I am going up to a Medical Board pretty soon. I passed one of them allright. I was marked for Active Service. I went sick down here. I get very dizzy at times. I had a small splinters of shell taken out of my dome. There are an awful lot of Canadians here. I know quite a few of them. Some of the 129th, 128th, 134th, 72nd, and some of the 127 No. 1 CRT. 3 of our lads are here out of my own Company I mean. One of them is getting a Canada. I think I will be getting one also. So might be hunting with you this fall & winter."

Jul 28, 1917, No.7, Canadian Gen. Hospital, France

"Dear Pauline, I will have to write to you this time. Or you will be giving it to me when I get back. I did not get back to my Company in Belgium after all. I was sent down to a Can Base. I took sick there, so I was sent to a Hospital again. My head doesn't bother me much. But the gasing I got some time ago came back on me. I can hardly see some times. I think they are sending me to England and from there to Old Canada. I will make you step around I bet if I get back. I had two little pieces of splinters of shell taken out of my head. I have them with me. Will try and hang on to them. I have not had a letter since I have been wounded the 16th that was you know that is awful for me. I allways got so many letters from all my little girls. Not many from the dear Baker sisters tho. I told a chum of mine in my platoon to tell the Orderly Corporal to send my mail to me. But I have been moved about so much around here. I think it will all go astray. There are quite a number of Canadians her, P.P.C.L.1. , 10th Batt, 14th, 21st, 172nd Highlanders. The fellow next bed to me was transferred into the 10th Batt out of the 35th. He knows that Gardiner that Harold use to run against. His name is Pte. Lemon, maybe Harold will know him. He forgets nearly all the 35th lads. He was gassed, 26 of them in this Ward have been gassed."

p.3 "I cannot write to May or Harold I forgot their addresses. I left the addresses in my Great coat in a dugout up the line. So when ever you write to them or see them tell them why it is I don't write. Au Revoir"

Aug 1, 1917, No. 7 Canadian Gen Hospital

"Dear Mother, Well I will try and write a few lines to pass the time away. I am still in Hospital in France yet. I am feeling fine. I have given up hope in looking for a Blighty. I was up to another Medical Board yesterday. I don't know what the M.O. marked me yet. I have had no mail since I came down. There will be a heap for me waiting if I go back to my Co. I wrote to a chum of mine and told him to have it sent to me. But it has'nt arrived yet. How is Harold feeling now. He told me he was going to join Caromga Army or Uncle Sams But I guess he is a wise head now. Arch is the wise one, hope he keeps that way."

Aug 4, 1917, Canadian Base France

"Dear Merelda, Supose you all will be wondering where I am now. Well I was sent from Hospital down to the Base again, came down yesterday. I do not know how long I will be staying here. But my next move is back to my Coy. When I came down yesterday who do you think I ran across Art Trent of No. 1 CRT, Tom Reinsford of No. 2, CRT, B.Coy and my old chum F.Lucas of our Coy. He has been away in Hospital for two months with a skin trouble. Big Tom was wounded and A. Trent had scabbies. In the afternoon Lucas and I were in a Y.M.C.A. We were talking about who all had been wounded from King. We mentioned Bert Kelly's name just then I spied poor Bert coming in. I said Luke here is Kelly. I very near took a fit. And he could not speak for a while. Gosh he was glad to see us again. He was wounded in the breast in May and is here waiting to be sent up the line again. He is in the 19th Batt. He has change quite abit. Has that old soldier look on him. He went with us to a show last night. The first show I have been to since I left Eng. He is in the same Batt as Ab Hollinshead & Sam Armstrong. He says Ab is a brave fellow in the trenches. Afraid of nothing."

Aug 7, 1917, France

"My Dear Mother, I am still at the Base yet. I think I will be going back to my Coy this week. My chances are all gone for getting home. I was sure at one time I was going to be sent home. I told you before I guess they took two small pieces of shell splinters out of my head. It sure hurt some to. Kelly is still here. He, F. Lucas and I go to a show every night. It is a dandy show. I hear from one of my chums that Harold Boys has gone to a Hospital in England. He stayed around camp with us for three weeks where he should have had been in Hospital. His wound went to poison I guess."

Aug 10, 1917, Canadian Base, France

"Dear Merelda, just a line to-night to let you know I am still at the Base. Kelly and Luke is here yet I call Locuas Luke for short. We go to a show every night. They are just fine the ones over here. I had a streetcar ride to-night for the first since I left England. I am having a high old time. But I don't get any mail down here that is the worse of it. What a heap there will be for me when I get back to my Coy. I have not written to May or Harold since I have been wounded. I lost their addresses. So you write and tell them the reason I don't write. I sent some souvenirs home the other day. I sent Mother a dandy. Did she get it? And Paul & Floss some silk cards. How is Dad & Arch getting along at the harvest. Guess they will be through now by the time you get this. I thot I would be back in time for Exhibition. But not now. Maybe Xmas. Will look that way anyway. I expect to leave for the Coy about the 12th Sunday. I very near been away a month from the noise of guns and shells. Well old girl. I think you are old. Close onto forty and never been kissed, ha-ha. I will close now, wishing you all the best of luck.
Your loving Brother. The pie eater."

Aug 15, 1917, Canadian Base, France

"Dear Arch, you all will be getting lots of mail from me now. I write home quite often I know. Jim Gillis will be cursing I bet. I am still at the Base. There are quite a number of the 2nd C.R.T. here waiting to be sent up the line again. Talk was going around here last night that we were to go into a Infantry draft. But I think it is all Bull. They won't get this lad into it. Anyway I am not fit couldn't carry a pack ha-ha. I hear that No. 1 Construction is down where we are. So I will see Old Wallie & Paddy, Sid and them when I get back. It seems like two years since I left them Kelly is still here. He is going up the line next week. He said yesterday whenever I write home again to tell Dad he wish he was back at King playing cards in Armstrong's Hotel. He is Corp now. But never wears the stripes. He says he has'nt time to put the stripes up."

Aug 22, 1917 Belgium Earl refers in this letter to being gassed

"Dear Merelda, Well I have been sent back to my Coy again. I came up on the 18th. I am feeling fine now. But sometimes my head ache pretty good. I think it is the noise of our guns tho that causes it. Fritz is more than getting the shells now. The bombardment is something awful now. They say I miss the worse of it. Luke came up the line with me."

p.3 "Fritz sent some gas over us last night. But he did no harm. I woke up sneezing I said to myself Gosh I am getting a bad cold. Very soon my eyes started to run tears so I was not long getting my helmet on. This is the third time my gas helmet waved me from being gassed. Harry Bovair is away in Hospital with the trench fever. It is a bad time of the year now for fever. So much dead stuff laying around. I will never forget this front line. There is more than me that will never forget it."

Aug 24, 1917, Department of Militia and Defence Ottawa

Letter to Jerome Jacob Campbell, Esq, King, Ontario – father of Earl informing him of Earl's injuries

Aug 25, 1917, Belgium

"Dear Pauline was very glad to get yours and Flossie's letter along with Merelda's. It was some class to the paper which Floss wrote me. 2 x 3 I think it measured. But them are the kind I like to get. p.3…. [a portion of Earl's letter was erased by the Censors] "We are whacking the railways down now allright. It is the narrow gauge track we are at."

Aug 27, 1917 , Belgium, B.Coy, 2nd CRT, B.E.F.
People were not the only ones displaced during the war. Earl wrote this letter from a dugout and he mentions that when he went to bed he found a dog in the dugout.

"Dear Merelda just finished writing a few lines to Annie Sturdy. So thot I write home again. I have to-day off being I was on gas guard last night. He did'nt put any gas over. I was sure he would tho it was such a calm warm night. I guess our guns made it to hot for him to get out of his dugouts. The bombardment our lads had last night was worse than any thunder and lighting storm you ever did see or hear. It is great to look at it in the night. I was relieved by another of our lads at half past one. And when I went to my bed in the dugout. I lit a candle and starring me in the face was a big white dog. And laying on my blankets. I knew where there was a bayonet so if he showed any fight. I would to. But a wag of his tail soon told me that there was no German in him. I layed down. And he layed at my feet all the rest of the night."

Aug 29, 1917, Belgium

"Dear Merelda, Well I must write and thank you for the box you packed for me. The R.Cross box you sent it to the 1st of Aug. and I got it Aug 27th it came in good time, did'nt it…… I think I will be getting a pass to England soon. We have been over here quite a while now. A year ago today we landed at Witley Camp, England . It seems a long time to me. I don't think this war will last another year. So Chester Ward is missing, poor chap. I had a great chat to him up here in Belgium. He was in the 4th C.R.T. There is a awful lot of Can. Rly Tps over here as high as the 11th now. None of them can beat the 1st and 2nd tho. The 127 men are in them you see. Harry Bovair is still in Hospital with the fever. And little Leonard Robb is away to. His people will feel awful bad about him. But he is better with that than wounded. Wallace & Paddy were up to see us chaps. I was in the Hospital so I did not see them. They are only 4 miles from us now, so I will be going to see them soon. We expect to be relieved soon by A & D Coy. C & B have been up the line for 3 weeks now. Three B.Coy lads have been killed and some wounded since I've come back. Vanderburg from Richmond Hill was badly injured yesterday. Harold Boys is in England now. He was wounded in the arm from a flying butt of a 4 inch shell. It is a wonder it did not take the arm off him. He stayed around camp thinking it would be better in a week or two. It got so bad he had to be sent the Hospital I don't expect he will ever be back with us again. Chances are he will be sent to Canada. I was sure I was going to be sent home when I got mine. My temperature was up to 103 quite a few times. I think I was frightened of the nurses tho. I was in a American Hospital for a few days. They use a Canadian awful good.

Has Harold been home lately. I wrote to him, address it to 17 Condor Ave. guess he would get it. There are not many of his batt left over here now. There was a draft of men sent into our Batt last week one of the 14th Batt and there are two of the old reliable the P.P.C.L.1. But the rest of them are lads who first came across the Channel. They think they know it all to. It will make you sick to listen to them. Last night Fritzie started to shell our home of dugouts. He got our new lads wind up all right some of them were clinging to the ground. And the day before they were saying 'We are not frightened of Fritizies shelling'. He can scare anyone believe me. My heart has been up in my throat more than once. When a fellow get hit once. He is allways nervous afterwards. "

Sep 10, 1917 Field Post Card sent to Miss Merelda Campbell, King, Ontario, Canada


Sep 16, 1917, Rest Camp Belgium Earl writing to his Mother

"Dear Mother, I am on 24 hour guard to-day so though I would try and pass some of my time away in writing to you. We are having a great time down here. We just do 2 hours a day rifle drill and P.T. then we have the rest of the day to our selves. We will be getting a three day pass to cities in France I expect. We are down for two weeks. Yesterday the 2nd C.R.T. played the 1st C.R.T. baseball at their camp about 8 miles from us. We beat them 16 to 4. The first man I ran into when I got there was Sam Moss. I was talking to him about 5 minutes then I asked him where could I find Wallie. He told me that he had been killed the day before. It nearly took my breath away when he said that. I had not seen him since he left England last year. And I was thinking all the time I was going to see him once more. It is awful sad about the poor fellow. What will his people think? He was so well thought of around home. He was hit with a splinter of a H.E. shell in the stomach. George Bainbridge told me the last words he was 'hurry up with me or it will be to late' He died before they carried him 4 rods. Frank Gamble was also wounded with the same shell. But they say it was only slight. I did not see Sid Goodswain or Paddy they were away drawing rations. How did the corn turn out this year. Did they fill the silo? There are dandy crops around here. The farms are to far away for Fritz to destroy them. It is a very pretty place, 10 minutes will take one into France. Yesterday was Sunday and you could here the Church Bells ringing all over. Must tell you that we had the Prince to watch us play Base Ball. He is very young looking. Well Mother I will have to close for this time. I have not heard from home for a long time. I am expecting a bunch some of these nights. I sent Pauline & Floss a couple of cards yesterday."

Sep 22, 1917, Belgium letter to Merelda

"Dear Merelda was very glad to hear you again. And glad Mother received her Handkerchief holder. Yes I get all your letters. Yours last night was written the 22nd of Aug. I wrote to May this morning after I got her address from you. I wrote to Harold the other day. I address it to King maybe he will be home to get it…. We had a awful storm about 2 wks ago. We were washed out of our beds in the night. It was the worse night I ever saw. You could'nt hear the thunder for the noise our guns had. We are having a jake time now down the line for a rest. We are down for two weeks. Our time is up the 29th of this month. There is an awful war going on just now. We just can hear a faint sound of the guns. Let me know what you think of the photo. I will tell you their names. (No photo in the letter) Top row left to right – Yek of course you know him. Second is Bill Wellman of Richmond Hill an old 127th Batt lad. Third is Carl Jensin of the 114th Batt. N.B. who was drafted into our Batt in England He is a Dane and a very good Boxer. Second row sitting left to right 1st Frank Wilson of the 112th Batt Nova Scotia he was also drafted into our Batt in England. And the one sitting with the cigarret in his mouth is an old 127th lad Bill Fisher of Richmond Hill. His home is in Ireland. He worked 5 years ago at Badgers place King. They all are coming out to King to see me after the war. Luke and I had our photo taken a couple of wks ago. But have not received them yet. We had these taken in a small town in Belgium. Harold been in it."

Sep 25, 1917, Belgium letter from Earl to Pauline

"Mon Cher Pauline received your letter also Flossie's. I am glad you are getting all the Souviners I send home. That word Lucy Allan uses is a certainly long one. She will feel bad about poor Wallie being killed. Well suppose you had a high old time at Pellatat's. Did you do any running or are you getting to old to run. That was a very nice guy you had for the best one. McKennin is his name I think. I think I know him I met him 3 (?) years ago. Bill Wellman of my Coy is related to him someway. It is a shame about poor Edith getting married. What will I do now you will have to hunt me up one. The mail call just went so I ran like a son of a gun to see if there were any for me. I was glad to get two. One from May & one from Merelda. Merelda wrote it the 7th of Aug. I had went to the Hospital I was in and then to the Conv. Camp and then to another Hospital and then to the Base then up here to me. It was pretty well marked up. What did she put two cent stamps in it for? I got the slip about me being wounded in it. I get everything that is sent from home."

Sample of envelope with "On active service"

Oct 2, 1917, Belgium letter

"Dear old Sis, Receive your welcome letter of Sept 3rd and am glad you all are keeping well. And glad you all are getting the Souviners I send home. I am back to the line again. Had a good them the two weeks were on rest. I would had a much better time if the two weeks rest were to Blighty. We have a lot of hard work ahead of us now. Fritz has been driven back quite a few miles this last three months. We are running a narrow gauge track across a awful looking country. No mans-land is right. A person would not believe what it is like until they see it for theirselves."

Oct 9, 1917 Letter to Merelda

"Dear Merelda …. You asked me if Gordon Ross was wounded. Know he has not been hit yet. He is on the transport with his brother. I only see them about once a month. Lorne and Sam Gorley & Leslie Sturdy are also there. Leslie is working in the cookhouse there. So I guess he will never go hungry anytimes. I know I would'nt if I was in his place. I could easy find the cellar."

Oct 12, 1917
"Dear Mother. Guess you will do some looking at this fellow. I had it taken after I came back to my Coy from Hospital. You can see that all of my head is there. I am only minus a bit of skin and hair. Let me know if you get these two photos. I had this taken in a town where Harold had been many a time.
Your loving son, Earl"

Oct 25, 1917 Sap. E. Campbell # 779051, B.Coy, Can. Rly Trpe, Belgium

"Dear Sister. Received you very welcome letter of Sept 19th today. And tell Flossie and Pauline I receive theirs of Sept. 17th also. Was glad to hear you all are keeping well. But sorry Harold has gone to Ottawa could'nt he get a job in Toronto. Do you think he will ever come over again? Keep him away from it if you can. Once is enough for any one . And it is to much. Three days ago I was walking on down the third line trench and I ran across Jack Mullen. I had not seen him since I came to France. And we were sure glad to meet each other. I see him quite often now. He is in the 123rd Pioneers. He was wounded in the jaw but is better now. And this afternoon I was in my dugout I call it mine anyway. It is only big enough for the two of us Wellman and myself. I was drying a pair of socks Mother sent me. Henry Bovair came along and hollered in 'Yek' there's a fellow from King City wants ot see you. It was H.Wells. I was surprise to see him allright. And he is so fat, hard tack agrees with him, ha-ha."

p.3 Earl continues his letter to Merelda the following morning 26th

'Well Merelda I will write a few more lines this morning. I have'nt to go out on duty until towards evening. So I will write a few letters to-day. It is very cold this morning. But our dugout is quite warm with a blazer in it. I swiped some good pine boxes last night for fire wood. And there is plenty of mud. It would'nt be Belgium if it was'nt muddy. I would rather be in France than here. The French people are far nicer than the Belgiums. I have no use for any Belgie. And they are the same with us. Tell Pauline & Floss I will answer their letters soon. Had Dad all his cattle yet? And how did the roots turn out after the big hail storm you had. Lieut Jenkins has gone on 10 days leave to Paris. He will have some time there believe me maybe I will take my leave there. If I ever get one. Well dear Sis. I will be quitting for this time now. So write soon again with love to all at home.
Au Revoir, Bro. Earl"

Oct 29, 1917 letter to Mother from Belgium .. stamped passed by the Censors

'My Dear Mother Well I guess I'll write to you this time. Tell Merelda I receive her long letter of Sept 25th. And I received one from her the same day written June 24th with 1 dollar in it. It had gone through all the Hospitals I was in. That's why it took so long to reach me. I can say that I get all my mail and boxes to. I received that dandy box last night. That was a dandy cellar of honey. But was not large enough. ha-ha. Mrs. Merchant would be in an awful way about poor Wallace. It was sad news for me when I heard about it. I was very sorry I did not get to see him burried. I know where he is burried tho. It's a very pretty place. And such a large cemetery. Many a hundred lives are buried in it."

Oct 29, 1917, Somewhere in France – letter to "Dear Friend" think it is addressed to Harold as Earl is mentioned in the body of the letter not sure who it is from

"Dear Friend
Just a line as I was to write you well I hope you will excuse me for beening so long in making it good but its better late than never. I had a letter from Merelda and I see that things are about pretty well the same around King. I also seen in the letter that the news of poor Wallace's death has cast quite a gloom around especially with those who has Sons or Friends in the firing line. I was up to see his grave yesterday he is buried in a British Military graveyard not far from here. We have got crosses and wreaths set up on all the graves of those who were killed that night they are of good quality and will last a long while. While the crosses will last for generations. I had a few with me who were pals of the others they were pretty sorry there is a good many graves in the graveyard where he is buried. Some reports say it was bombs that was the cause but that is not true. I was talking to some of the one two seven (127th) when we were on a long run a few days ago and the thought it was bombs but the truth is that it was shells and he was not wounded in the chest. I think for sure that he died not suffering very much for the shock was enough to kill anyone who was close and heavy concussion serves to deaden the brain. We had two services I was present at the one when we gave them a soldiers funeral the other one was when the wreaths were put on. I was away for that one we are very busy now and owing to the weather I had to be on duty pretty steady. You were to see Mrs. Merchant I am sure she would be very sorry for him he was a fine fellow as I have had a good chance to know for we have been through so many tight corners together that I have lost the count and he was Johnny on the spot every time. I wrote to his Mother soon after it had happened I hope she has got the letter. Alright Sam Moss also wrote and I could not say for Frank Grambriel he went to Blighty with trench fever on the night that it happened. I have not seen Earl since he came out here he was quite close to our place one day but I was out at the time and did not know of it for a long after. I have seen quite a bunch of the hundred and twenty seven(127th) with Billy Bowler has some great experiences to tell. Well I will have to close as it is getting dark in here tell Dad and all the grils I was asking for them .. Au Revoir. I remain yours sincerely Harry

Photo unidentified found in the letter addressed "Dear Friend"
October 29, 1917

Nov 2, 1917, Sap. E. Campbell no. 779051, B.Coy, 2nd Batt. Can. Rly Tps, B.E.F, Belgium

"My Dear Sister Just a few lines this time to let you see I am still able to write & am keeping well. Rec. your letter of Oct 2nd last night. And I also had one from another married woman Mrs. Edwards, I only received 21 letters this last mail that came in. What do you think of that. All from Canada to. But don't you tell anyone or they might stop writing to me. Thinking that I have to many girls. No Merelda I have not get the $5 Mother sent me yet. But I guess it will come allright. I received the box you sent me. I have the underwear on. It is jake for the little animals, ha-ha. I wrote Mother not long ago did she get it o.k. How is Pauline's cold, hope she is all over it by now. Has Arch got the stones & stumps cleared off the new land they broke up. It is to … bad that Libe was turned down for overseas duty. He is the only one I did want to see come. I hope the Watson yellow gang all were mark A.1. They will open their eyes many a time if they ever get over here. Maybe they will be like the Americans a long time in coming. Gamie Crossley was to see us B.Coy lads a few nights ago. He is looking good. He is more like old Bill now. Shoots great lines of bull. We are sure having lots of mud over here. It will be nice in Canada now won't it. Well Merelda I am only writing a few lines this time. Will let you know if I get the money. Hope all are well at home.
Au revoir. Your Bro. Earl"

Nov 5, 1917 Belgium, letter to Harold

"Dear Bro Harold
I received your long looked for letter last night. Allso the dollar bill with. I know you know that money is tre beans for a poor bugger over her in this bitch of a country, ha-ha. It will buy me a couple of good meals allright. I am glad you like your new job o.k. You are sure traveling the world allright. Will you be in the States all winter. I will never do any traveling when I get back if I ever do. It will be damn hard to get me away from home a couple of miles. Yes we had some awful weather here allright. Mud first to the belly. Yesterday & to-day the sun shone a little. Once darkness comes on a fellow is better in his dugout for there are plenty of shell holes to fall into. And some of them are 8 & 9 feet deep with water. I got into some of them. But only after a .. issue, ha-ha. I seen a few of your old Batt to-day the R.C.D from Stanley Barracks. They have not been into any scraps yet. But are standing too just now. The war will be over when the Calvary get a day or two at Fritz. The Bengals Lan are down the line waiting for the order. God they are great looking lads quick as weasles on horseback.
Well Harold I will have to close now and hope you get along at your job the best. And write me again soon. I will write soon,
Your loving Bro, Earl

p.s. I have been looking for Mr. Nelson over here. But I cannot find him. I think he is on a different front. I wrote to your May. But don't you say anything to me. Ha-ha."

Nov 8, 1917, Sap. Earl Campbell, No. 779051, B.Coy, 2nd Batt. C.R.T., B.E.F., Belgium

"Dear Pauline
Well I think it is about time I am answering your letter. I should write to Floss also. But you tell her I said she could write for a little while longer. Tell Mother I received the money order she sent me $1 it was. I soon had it changed into Francs that is French money. I got 27 Francs for the $1. That will buy me some goodies for awhile. I will be looking for some more this xmas. I guess I will have Christmas over here allright. I would much rather be in Old King for it tho. Has Mother sent my black sweater yet? I will bring it back with me all right. Tell Merelda I received the dandy box she packed for me of the Laskay Red Cross everything was jake in it. I have'nt it all ate up yet. I keep the good part of it for the last. The light ginger bread & the dark ginger bread. I also had a box from Merle last week. Henry had a lot of old chum and cigars in it. Allso a new Canadian pipe I am sure I get every box that is sent to me. And am might glad to get them. The eats that are in them you no are quite different from what we get out here. There are just the two of us in our dugout. Bill Wellman and I. And when a box comes we make ourselves sore from eating. You should see our little home of sand bags. We have it bomb proof, but not shell proof. I had a letter from Maisie last night. She is getting to be some girl. She can write a nice letter. Did Dad go hunting this fall? And how is Arch getting along trapping. It makes me homesick to think about this time of the year in Canada. It has been a dirty fall over here, rain all the time. I never knew what mud was until I came to Belgium. Well Pauline I have to write to Henry to-night so you will have to excuse this short letter. I hope you all are well at home. I will write in a day or two again.
Au Revoir, Bro. Earl"

Nov 11, 1917, Belgium

"Dear Old Sis – I received your letter of Oct 10th with a dollar in it. Allso Pauline's & Flossie's sheets. It was a dandy fat letter the kind I am glad to get. So you got the photo of 'Yek' and the other four lads. So you think I look thin, eh. Well is no wonder I am thin. This place will make anyone thin. Some nights I get no sleep atall. Old Fritz get shelling or bombing over our dugouts. And a person can't sleep. Sometimes the shells light so close to the dugout that it will tremble all over. I then cling to the ground. No one will ever believe what it is like over unless they been to see for theirself. You asked me if Karl Jenson was any relation to the Jensen we had hired. Well I will ask him … had forgotten about Hans Jenson. So you know Wellman . He does'nt know you. He and I have slept together in a dugout nearly 3 months now. He is a nice lad allright. But only 19 years old, ha-ha. Fisher the Irishman is about your age tho. They are all coming to King to visit me after the war. Well Merelda this is another night. I could'nt finish this last night. I'll try to to-night. You will be sorry to hear that Jack Kerwell has been wounded. He has been at Head Quarters right along. And last night Fritz came over with his bombing planes and dropped a few around H.Q killing one Serg and wounding five Sappers. You do not know any of the others. Jimmie Allan and Bob Wilkins brought our rations up to our Coy to-day and they were telling me. They are on the transport for B.Coy I will call them the Safety first guys. But sometimes they get it hot. Lorne is Corp over in Transport. Jimmie Laremount the old Corporal was killed in May. Serg Ross is the Serg. I was on the transport in England. But Jenkins took me off and put me back into the Coy. I had been in it ever since. The only King boys in the Coy now are the two Brown boys, H. Bovair, Serg Jack Dock Boys. He is in Blighty now. Any Lieut Jenkins & myself, and little Serg McKeckeric. I must tell you all the news I can think of now while I've the chance. When we left England last January we had 1200 men. But only 450 of them were the old 12 York Rangers, 127 Batt. The rest of the 127 Batt men went to No.1 Construction now called 1st Can. Rly.Trps. Would you believe it if I tell you that there are only 112 men left out of 450. I call myself mighty luck for being one of the lucky 112 men. Frank Grambil's brother was killed last wk. He was in the 1st C.R.T. I think I told Pauline in her letter about receiving the Laskay Red + box. I sure did eat that night. There are just the two of us in my dugout. And what I own he owns, ha-ha. I also received a box from Ruth a few nights ago. I get every thing that is sent to me. So my little Clara has a fellow, eh. Well I'll fall back on Miss Sturdy now. And if she get a guy I"ll get another one. I guess Harold will keep Arch out of the Army. It is a good job he is home to tell him a thing or two. I hope he will listen to him. I got the five dollars Mother sent me. And it is just about all gone up in eats now. I am a big eater yet. When ever I get it to eat, ha-ha. Sure tell Mother I want lots of money till after this winter is over. I expect to get a 14 day leave after the 12 of January. We will be 12 month on active service then. And I want to get one more souviner of Belgium. It will be a big one this time 40 or 50 Franc one. Well, Merelda I am getting sleepy so will come to a close for this time. Hope all are well at home. How is Mother's cold. Tell her to take care of her self not to work to hard. And for to keep out of the wet.
Bye Bye Your Loving Bro Earl

Received the snaps Mary Teasdale sent me. I know the most of 'em"

Nov 12, 1917, Sap. E. Campbell No. 779051 B.Coy, 2nd Batt. Can. Rly.Tps B.E.F. Belgium

"Dear Brother, I received the post card you sent me last-night. Surprise you are back in Toronto. I guess you would enjoy your trip through the States alright. A different looking country than France or Belgium is'nt it. I am .. sure she has England beat to. I think I'll take my 14 days leave to Scotland & Ireland if I get one. We are due for a pass after the 12th of January. It will make us 12 months on active Service. Mothers Birthday it is easy to remember. I would like to go to Paris tho. I might change my mind yet and go there. I think the French people are very nice. But these Belgies are no bon at all. And when you are talking to a Belgium lassie and happen to say anything out of the ay in which I am very fond of doing. They say 'no conpre'. Mereleda said you where to see the World's Series. How did they make out. I guess it would be a great game."

p.2 of the letter is missing

p.3 "There is heavy fighting going on now, has been this last 4 months. Well Harold old boy I will have to close for this time. I will write soon again. Take good care of yourself. And I wish you a Merry Christmas and a Happy New Years.

Your loving Brother Earl"

"write soon"

Nov 29, 1917, France

"Dear Mother you will be all wondering why I have'nt written this week. The reason is . We left Belgium & moved back to France and it kept me very busy. We left Belgium the 27th and arrived in France the same night about 11 o'clock. We had a midnight march which took us till 4 o'clock in the morning to get there. It was a fine trip such a fine moonlight night and not to cold in the box cars. The Battalion is all here for a four week rest than we move up to our new front. I hope it is not as rough as the one we just came from. I don't think it can be any rougher. We are about 40 kilometers from the line now so we hear no guns atall or no bombs to keep you awake at night. I am wishing we could stay here for the duration of this awful war. The French people use us jake, they are far ahead of the Belgiums. If one wants a drink of water from their pump they will get one. They gave us a dandy billets to sleep in for our four weeks rest. We are close to where we were billeted last winter when we first came to France.

I suppose you will have the box of presents I sent home over a week ago. What do you think of my sewing of the box. Some class is'nt it. I'll try and get you & Dad something. I have'nt received the box with the khaki mitts in yet. I guess it is close to me now. I had a letter from Mrs. Edwards the last night I was in Flanders she is sending me a box. I'll have lots of boxes soon. But there is nothing like em. Say Mother will you send me about 10 dollars. I'll not ask for any more after this. We are not on full rations now, just half rations. So money will be handy. I get all the money you send. And find it a good help to me, ha-ha. Has Henry & Merle come down yet. I had two boxes from them lately. Where is Harold now? The last I heard of him he was in Waterloo. Why don't Arch write me a line or two. Maybe he is too busy trapping and going up to Aurora for a hair cut. Tell Harold I had a jake time in … while I was there. But we are quite a few miles from it now.

Well Mother I will have to close for this time. I have quite a bit of fatigue to do to-day. I'll write again soon. We are safe now for awhile. Hope you & all have a Merry Xmas & a Happy New Years.

With love your loving Son, Earl"

Dec 5, 1917, Rest Camp, France letter to Pauline

"Dear Pauline, It is about time I am writing to you. I know it is my turn. I suppose you will be trying to skate these fine moonlight nights. There is no snow over here yet. But it is quite cold. France is far ahead of Belgium the weather has been jake everyday since we came down. The sun shines everyday. And in Belgium one hardly ever see the sun. Well Pauline our 14 days leave has come. A number of our lads are away to Blighty now. I expect to go in a couple of wks. But I don't go to Blighty. Scotland for mine and maybe across to Ireland. I would like to see Paris but I'll have to give it up. One of Sergents had a letter from Harold Boys in Eng. I only wish I was going with him. I will try & see him when I go on pass if he has not gone.

Have you received the box I sent about 3 wks ago yet. A silk apron for Merelda and something for you, Floss & Arch. The ring is a German ring. I will not tell you where I got it tho. I am sending Mother a souviner of France a silk purse. But no money in it. She can put the money in it. Let me know if you got everything. I have not the box with the khaki gloves yet. But I guess it will soon be her. Mrs. Edwards send me a box I have not it yet either. How many cattle is Dad fattening this winter. And how many skins has Arch got hid away. Art Brown says he never got Arch's letter. Well Mon Cheri I'll have to close now . Our Billet is'nt very warm for writing. One can see the stars at night thro the roof of it. But one good thing we have no shells or bombs to bother us. Au revoir Pauline. I want to hear from you soon,

I wish you All Merry Xmas & Happy New Year,

Your loving Bro. Earl"

Dec 17, 1917, Rest Camp, France.

Letters exchanged between the soldiers and family and friends at home was an important part of a soldier's life in order to maintain their morale. Censorship of soldiers' letters was undertaken by regimental officers. The purpose of censoring letters was to avoid mention of operational details. Information that was forbidden to be included in the letters was locations, number of troops, and criticism of officers. In a number of Earl's letters we can see where the Censor has erased information that may have proven valuable to the enemy.

Dec. 17, 1917 letter where Censor has removed some text

"Dear Pauline, I have received two letters from you this last mail. One was written on the ploughing match bill. Those are the kind of letters I like to get. Well Pauline this letter will not be censored. A chum of mine Sap Fisher is going on his 14 days leave to Ireland to-morrow. He said he would post it there for me. So I can say anything I want to in this one. I have been pulled up 3 times since I been over here for puttuing sutt in the letter I should'nt to. I am sorry to hear about little Norman Willis. I had a letter from Merelda last night. She told me all about it. Susie & Fred will be nearly crazy. So Dad sold old Joe. Its to bad, you girls will have no horse to ride now. Archie McLean will use him good allright. He use to use C…. pretty good. Does he come down to see Merelda very much.

I am glad Arch got his papers…. [section has been erased.. assume the censors got a hold of the letter] I often think however I pull through as well as I have. I feel allright except my nerves are gone. I will try for my discharge next spring, ha-ha. I guess I'll get it allright. I think this war will be over by the 1st of July 1918. I don't see how it can last any longer. The Americans will give them something some of these times. I suppose you all will have the presents I sent home in a parcel Fritzie's buttons and a ring. I took from one but don't tell anybody. I took it from a German. Arch can have it. I have a lot more of German stuff. I will bring it with me when I go home. I suppose Henry & family will be down home now. I will write to them soon, I wrote to Merelda a couple of days ago telling her I received five boxes one from Mrs. Edwards, on from Vic Hall, Mr. Farmer, one from home. And one from the Laskay League. I had one from Merle & Ruth the week before. I am sure getting fat now. I have not had a hard tack for 4 weeks now. Our time will soon be up for going up the line again. I hope this new front will not be like the Ypres front, It was a son-of-gun. Harold been around it. Ypres is all blowing into dust now. I know it all off by heart now. I put six months in it. Last winter when we first came over here we were on the Somme front around…..[section had been erased by the censor]… and a lot more of these places … to-morrow after noon for a wild pig hunt. There are quite a few around here. Well Paul I will have to close now. B.Coy licked A.Coy yesterday in football. I got a bang over the skin which made me a little lame. Now write again soon and tell the rest. Take care of yourself,

Au revoir your loving Bro. Earl"

Dec 23, 1917, letter to Merelda from London, Waterloo

"Dear Merelda: I have arrived back to London at last. Heaven I should call it. I left our Battalion Dec 21st landed in Boulogne the next evening about 7 o'clock. We were staying in a big building for the night waiting for a boat the next morning. Old Fritzie came over with a Zepplin and dropped 35 bombs in about 35 seconds right close to where we were staying. The windows in our room were all jarred out. He killed & wounded 165 British & French people in 35 seconds that going some, eh. I seen a little girl about 7 years old get her head cut off.

We sailed from Boulogne to Folkestone. The trip across the Channel was jake the sun shone all the time. And we sure had a swift ride across. One hour and 20 minutes was all it took the boat. Two sea-planes & two Destroyers kept guard on us across. I am writing this in the Union Jack Club House in The morning I am taking the train for Scotland. That is if I can get a bath and some of the crawlers off me in time, ha-ha. Thank God I will be away from them for awhile. I only wish I was on my way home instead of going to Scotland. If I ever I get a 3 month furlough to Canada I'll never come back again. 12 months or very near is enough for me on Active Service. I think 10 days of it will cure anybody. Well Merelda this will only be short this time. I'll write when I get to Aberdeen and tell you about the Bonnie Lassies. I hope you are all well at home. I have a bad cold just now. I caught it riding in the old open top cars through France. They thot they had a train load of dogs I guess. Oh, Soldiering is some life allright. Yes now be good with love to all at home.

Loving Bro, Earl"

Jan 1, 1918 letter to Merelda from London, Waterloo

"Dear Merelda, Well I am down in London again came in from Scotland yesterday morning. I had a dandy time while there. I was to Edinburgh, Dundee and Aberdeen. They are all pretty cities. I think Aberdeen is the nicest city I've been to yet. It is close to the ocean and you should see the big hills that are there. I thot that hill of ours in front of the house was a big one. Some in Scotland are about 10 times the size of it. And nearly everywhere you can see sheep or goats feeding on them. I spent my Christmas in Aberdeen and I will never forget it. The Red Cross Women of that City gave all us lads who were on leave and had no place to go to a free Xmas dinner. Mostly every thing you could think about was on the table. I happened to be the lucky guy in getting the six penny piece in the plum pudding. They told me I would be lucky now. I hope my luck is I don't have to go back to France again. But am afraid there will be no such luck. Anyway I think this war will end about July or August. So surely I can hang it out that long, eh. The biggest battle ever fought will be coming off this summer. I think the Kaiser will have peace before it does. He will suffer if he does'nt. The Yanks will be into it. And the Conscript of Canada will get a warming up. Fritz is a hard old nut. I can't see where he gets all his men. I was through the Tower yesterday. And also West Minister Abbey. I was through them last year. But I thot it would do me no harm to see through it again. There are awful sights to see in the Tower. Some will just about frightened you, ha-ha. I will go to the Zoo this afternoon. I am surprise to see how London is bombed so much. It is awful the big buildings that are knocked out. He bombs every moonlight night. Bu the aircraft guns get quite a few of his planes & Zepplins. It is great fun when a raid is on. The people nearly go crazy. If it happens to be in the night you see all kinds of people in their night shirts beating it for underground. They even forget to put their boots on. It is dangerous to stand in the road of any of them. They run at such a rate that if they hit a fellow it would about kill you. The women are the worse for knocking you over, ha,ha

I sent a big box from Aberdeen to Mother. I put my kilt which I got on the Somme last winter in it. I also put a brass cap made out of a 17 lb pound shell and a lot more of small stuff. Frank Brown made the cap for me. I hope you get it o.k. You should have it before you get this letter. I guess Henry & Merle will be home now. Did Henry bring any cattle down to Dad. I guess they would be all of the goat breed. I wonder what you all are doing now at home. It is New Years morning over here. I guess it is the same in Canada. How many skins has Arch got? I guess Pauline & Floss get a share out of them. Well Merelda I guess I have wrote you enough news this time. I will have some mail to read when I get back to France. They will keep it there for me. I hope you all are well at home. I am jake.

Bye-Bye, your loving Bro Earl

I wrote to Harold & May a few days ago."

Jan 3, 1918, Bordon Camp letter to Merelda (look at his record why he was in C.B…)

"Dear Sister, again I write home. I have to do something to pass away the nights now. I got a few days C.B. and I am not allowed to go out to the town until my time is up. Which will be up to-morrow night the 4th. Yesterday was pay day of course I did not get any pay. So I will just be about broke when I leave for away.

Well Merelda I don't think our Batt of 1400 men will see France. By the way they are running things around here now. Close on to two hundred wagons come in here new field kitchens, 3 dozen water wagons, and the cork helmets came in for us, the khaki coloured ones the kind the English wore in the Boer war. So you see we are in for going to some war country. May be Greece or Egypt. It will be an awful trip if we go there. We were to leave for somewhere on New Years. But more talk or Bull. We have been all issued a new equipment for our backs. They took our old Canadian pack and give us these. They are a web equipment a little larger and handier than the old ones. I am kept quite busy these days, such as cleaning mules, harness, saddles, spurs, bridles, and we must not leave a hay seed on the floor. But I prefer Calvary before Infantry. The route marches which we take every forenoon are quite easy sitting on the mules backs. I was thrown about 10 ft high and slid down the side o/f the stable. Polly is a quite one. But Ginger will not allow any one to ride him. He can even put the Serg Major off. And he is supposed to ride anyone of them. And Bob Wilkins has an awful bad one. This afternoon he was breaking it in. It threw him twice the second time Bob lit on his head unconscious. He is feeling pretty stiff to-night. He says if he can't break it in, he will break his neck in. Tell Arch they are harder to ride than Harry or Dave. I have not heard from Harold lately. Maybe he is on his way home. My New Years day was tending to the wild beasts. I had a letter from Lizzie Brown to-day saying that she packed the box for me from Laskay. She sent me a photo of the interior of Laskay Church. What a sight it was on Rally Day. I suppose Nobleton rink will be going by now? Or is the Laskay rink cutting it out? Well Merelda I will close now and write a line or two to Lizzie Brown. I allways answer ever letter that comes to me, let it be married or single, old or young, fat or thin. I wrote to Mother a few nights ago, hope she got it allright. With Love to all at home, Your Brother Earl
My address is changed again
Sapper Earl Campbell, No. 779051,
B.Coy, 127 Light Railway Batt.,
B.E.F. Army P.O. London, Eng."

Feb 8, 1918, Cheltenham, Gloucestershire, Eng.
Earl writes about the torpedoing of the Tuscania and American liner.

"Dear Merelda & All,

Well how are you all keeping this winter. Are you doing much skating or is it the Dances you spend your time at. I will show you how to dance when I get home. I've done quite a bit of it out in France. Dancing among shells I mean. I am still enjoying my self in bed yet. It is a long time since I've been in a good bed. So I thot I would stick to one while I have the chance. I have no pain now. My legs are numb from the feet to the hips. Therefore I can not walk. The Nurse says there is a good chance of getting my discharge. So look out maybe I'll be home to boy you around this summer. There is no chance of me joining my Battalion until Spring anyway. Thank God I am missing the winter in France this year. It is 10 years more to a person's life to miss a winter & spring in France. I see by last night paper that the Tuscania, the American liner was torpedoed. That will get the Yanks wind up allright. They are in for giving Fritz something pretty hot this summer. But I think Germany will make Peace before this awful Battle comes off. It will be the hardest battle ever fought in this war. And there have been some awful ones."

Survivors from Tuscania, a Cunard liner carrying American troops,
which Was sunk by a German submarine on Feb. 5, 1918.

Feb 20, 1918, Cheltenham, Eng.

"Dear Merelda, I guess you are hearing from me often enough now. I believe I write home twice a week. My mail has not come from France yet. But I am looking for it any day now. There will sure be a bundle of it I had a letter from Bill Wellman & one from Bob Carney, those are the only two I've had since I took sick. Well Merelda still in bed yet. And on Monday I have to have a operation on my eyes. My eyes have been weak ever since I got gassed in June. And the Trench Fever has made them a great deal worse. They have to be scraped. It will be some job. But maybe it will get me to Canada. Ha-ha. I have to wear glasses. I got them today. I think I am a beaut with em on. The Nurse made me put them on to write this letter. The Sister of No. 2 Ward has been to Toronto and to Huntsville. She is a awful kind Lady. She will go out to town and buy grapes & apples for us with her own money. Her Husband owns a large castle not far from here. Sunday nights we can hear the bells ringing on it. They play the tune of Nearer My God to Thee. It nearly make ones hair crawl to listen to it. I see by the paper that Fritz been over bombing London last night. Lucky this place is away out of his course. Cheltenham is close to the Severn River which has the second largest tide in the world. The Bay of Fundy in Nova Scotia, Canada has the largest one. A English chap would'nt believe me when I told him we had the largest tide in the world. I got Sister Jackson to prove it for him. Well Merelda I will close for this time. When I get out town I will get you a few of the latest sheets of music. I must get Hazel & Walter a few things. I don't think I sent them anything yet. I wrote to Arch a few days ago, also wrote to Harold. I hope you all are well at home.

Love to all, Au Revoir
Loving Bro, Earl

Sapper Earl Campbell
No. 779051
Ward 2
Naunton Park Hospital
Cheltenham, Gloucestershire, Eng"

Found in letter sent Feb 20, 1918
… assuming reference to sinking of Tuscania​​​​

Feb 28, 1918 postcard sent to Merelda, front is picture of Naunton Park Red Cross Hospital, Cheltenham, Eng

"Dear Merelda I think this is your birthday, is'nt it. Must drop you a line. This is the main ward in the Hospital I am in. This one ward will hold 60 Patients. You will see 2 Ward which I am in. I am not in the photo. I am out of bed now. I got up yesterday. I went under my operation on my eyes Monday. I had them scarped. They are very sore just now. It will be a long time before I go back to France. I am going out town to-day. I will try and get you a few sheets of music. We had a gang of actors here giving a concert the other night. It was a grand concert. I guess I'll have to ring off for this time. I have no letters from France yet. I guess they are not allowed to send them on. They will have to wait until I go back if I ever do.

Love to all. Brother Earl."

Postcard sent February 28, 1918

Mar 9, 1918, Cheltenham, Eng.

"Dear Merelda & All, I received your 17 page letter of Jan 15th a few days ago. I should had written you before. You say that I can write awful good letters. Maybe I can. But I can't beat you writing letters. I am allways glad to get your fat ones. I had a box from Ruth the other day same day as I rec the one Mother sent with the black sweater and streaked socks in. Ruth's had a jar of chicken preserved in butter. It was jolly fine. The Nurse had some of it. She said she would have to go Canada if the butter was so good as it was.

The Nurses and Sisters are awful nice here. It is a V.A.D. Hospital and is far ahead of the Military Hospitals. I have'nt seen a Military Doctor since I left France. And I hope I'll never see one again.

Harold Boys will enjoy hisself now. He sure is a lucky lad. Maybe I'll be sent home to a convalescent home for 4 or 5 months. I will know in another week whether I go or not. I am playing the game as much as I can. You can be sure of tht, ha-ha. I am getting along jake. My legs are very weak yet. It may be a long time before I am fit for marching. My eyes are much better now. But have to wear glasses when I go out. The sun is hard on them without 'em. I am glad the box with the kilt arrived home safe. I was afraid it would be censored and those live cartridges be found. The German ones are those with the rim around the bottom. Harold can tell you which is which.

The mail Nurse just brought me in a registered letter. I opened it. And surprise to see it is £1. It has been on the way a long time has'nt it. Tell Mother I said I will keep it until I get my 10 days sick leave. I had to change the American gold piece I got 10 s. for it at the Bank of England here. I passed the other gold piece for 10 s to. It was a gold dollar only 4.s. So you see I still can stick it over people yet, ha-ha. I did not know where Frank Platte had gone to. Glad you sent me his address. I will drop him a line or two. Had a letter from Bob Carney. He is at Witley Camp now. So Harold couldn't skate with my tubes. I wonder if I can wind them up when I get home. I have forgotten how to skate now. I sent you two sheets of music a few days ago. One is a dandy waltz or what ever you call it. I heard it played at a show in Etaples in France. How is Dad and Henry getting along with the checkers. I guess that is all they do now. I wrote to Merle a few days ago tell her not to forget to write soon. I had a letter from Mrs. Edwards yesterday. Another married woman eh. I hear that my dear Bessie is married. What a shame, they all are going. So you think Jean Burns wants one of us. Harold has the best chance to get her. But maybe he will miss her, ha-ha. I know she is a nice girl no need of you telling me so. And she would be a kind and true sister to you, ha-ha. Tell her I said the war will be over soon.

So Dickie Badger has left the good world. He will open his eyes when he get where there is no world atall. I feel sorry for him. Well Merelda what a big letter this time, better save some news for next time. I will send a photo of little me soon, I thank Mother for the pound note she sent, money is a good friend to me, ha-ha.

Love to all, Bro. Earl"

Mar 17, 1918, Cheltenham,

"My Dear Mother, Well Mother, how do you like this paper. A Austrilian lad gave me a few sheets of it. So that I would write a sheet of it home to you. Tell Merelda I received the 30 page letter this morning. And I was awful glad to get it too. So much news in it. One of the Nurses said to me. I got some awful fat letters from Canada. I told her that get well feed over there. Merelda's letter had gone to France. Lieut Jenkins sees that my mail is sent ot me. He is very good that way. He is one of the best of Officers. The whole Coy has a good word for him. I would like to see his Brother. But if he is at Bagdad I don't think I will ever see him. I think I told you in last letter home I received the Gold money and the English pound note. I am keeping it until I got on leave. I get a 10 days leave when I leave Hospital. Called a sick-leave. I don't know if I will be sent to Canada yet. I have to have a Medical Board when I come off my leave. It will be a long time before I go back to France tho. I could not carry a pack a mile the way I am now. My legs are very weak, also my back. They may keep me in Convalescent over here somewhere. But I will look forward in sending me to Canada. I will soon get better if they send home allright. P. 2 Say Mother. What do you think of me. I have forgotten my age. I don't know if I am 23 or 24. I am send you a photo of the Ward I am in it took 1st prize Xmas for Best Decoration and cleaness. Merelda asked if Paddy was with our Batt. He is with the 1st C.R.T most of the Aurora Sports are with it too. The Newmarket lads are in D.Coy in our Battalion. But there are not many of the poor chaps left. The old 127 Battalion has lost heavy in France. There are Drafts going across to join us every 3 months. I wish I could have seen Dad, Henry & Arch and Buster after the fox. I bet it would be a show. Dad with a stick of wood, Henry with the shot gun. And Arch with the automatic. I guess Buster legs would be to short to keep up to the fox and them. I had to leave my rifle behind when I left France. So if I get home I'll not be able to bring it along to show them how to shoot foxes, ha-ah. Well Mother. I will come to a close now. This will be a fat letter I am afraid. Take good care of yourself. And Good Health to all,

Your Loving Son, Earl

p.s. I cannot get the photo of the Ward in this letter will send it in next."

Apr 1, 1918, C.C.H. Monk's Horton, Kent, Eng.

"Dear Merelda, I received your dandy fat letter of Feb 25th last-night. I am sorry you are laid up with the grippe. How did you come to get it? … p.2 Now don't any of you believe this until you hear for sure that it is the truth. Yesterday I was talking to a guy out of the 4th Can. Rly. Tps. He said he had a letter from one of his chums in France saying that Fritz captured nearly all of B. Coy of my Battalion at Cambri on the 24th of March. I hope it is not true. I don't know what I would do if all my chums were taken prisoners. I wrote to Leslie Sturdy last night to find out for sure. There is a awful battle going on in France now. Fritz has taken land we been on for months. The City of Albert is in his hands again. It is a beautiful town too. I see the Canadians drove him back some yesterday. They are the bosy allright. Our lads will fool Fritz I bet being it is April fools day. He was badly fooled last April fools-day. I remember it quite well. Had a letter from Annie Sturdy yesterday also one from Harold. He told me all about his wife. He says I am to hurry home so I can help him to farm. I told him I was hurrying as much as I could possible do. My but it take a long time for them to give me a examination. I got the slip you sent about H. Boys reception. I 'll not have anything like it when I get home. I am too shy of guy for to make a fuss of. You just leave that question to me."

Apr 21, 1918, Monk's Horton, Kent

"Dear Pauline,

I must write and let you know I received the beautiful box of chocolates. They are just swell ones. One can't get good chocolates over here unless he pay an awful high price for 'em. Thanks Pauline for them. You must not be buying me stuff like that. Put your money in the Bank. Tell Mother I said she could keep 10 or 15 dollars out of my Military wages, and let you girls have it to buy me stuff.

I have not heard anything of being sent home yet. I had a Board on the 19th. Don't know what I was marked tho. One of the Doctors examined the wound I got in my head very close. I told him it bothered me quite often. But it does'nt much, ha-ha. Cute ain't I. I have to have one more it will be the final one. There is a chance of me getting home yet. Every damp day the trench fever bother me some. I don't think the climate of England will ever cure me of it.

I heard from one of my chums in France. Sap. Wellman he said that B.Coy, C.Coy and D.Coy were badly cut up in this offensive. A number of my chums have been killed and wounded. The only King lad hurt was Harry Bovair. He was badly wounded. B.Coy's Trumpter was killed and some more he mentioned. I feel sorry for poor Harry Bovair. I hope the wound is not bad. B.Coy had 14 days and nights of hard fighting. I can imagine what it has been like. Wellman said he had hardly a stitch of clothes on at the last. I believe Wellman is the luckiest lad in the whole Battalion. You have his photo at home. He looks like a simp. But don't you ever think he is. I have seen that poor chap thrown about 65 feet with shell. And never hurt. Jenson the Dane was wounded. He is the big fellow in the photo. A very nice lad he is. And Frank Wilson the small chap he was hit with machine gun bullet in the arm. Fisher the Irishman he came thro it o.k. being he was Irish, I guess.

Lorne is back to the Coy. He was Corporal of the Transport. He gave his job up like a fool and went back to B. Coy. He is trying to get into the R.F.C. If I have to go back to France again. I believe I will transfer into the R. Flying Corps. You asked Dad & Mother what do they think about it. But I do hope I do not have to go back again. As Harold say, it is not a good Country for ones health over there, ha-ah.

I had a letter from Annie Sturdy a few days ago. Say but she is a awful tease. But I allways give her the worse of it. I believe you just be giving her news about me. I hear F. Gamble back with is dearly beloved.

p.5.. I have found a P.P.C.L.I. lad that knew Aubrey Marshall real well. He was in his Coy. The 14 of Sept at Moque Farm he lost track of Aubrey. This fellows home is in Sutton. He thot a lot of Aubrey. And was surprise when I told him that he was killed the night the P.Pats when over the top at M.F. He thot that Aubrey had got to Canada. This chap will be sailing for Canada soon. All the first Contingent are getting 3 months leave to Canada. Those that are left are very few."

Apr 24, 1918, Monk's Horton, Kent, England

"Dear Merelda,

Just a line or so to let you know I am leaving convalescent to-morrow. I am going on my 10 day sick leave. You had not better write until you find out where my next Station will be. I guess it will be perfect that is a Can Rly Tp depot. I will have another Board while there. Sorry to say I was marked D1 yesterday. That means Active Service again. I will try my best for Canada after my leave is over. I have just one more chance. Have you sent my name into the Gov yet? I think it would help a great deal.

Men are needed so bad in France just now, it sure has to be a dead case before one get back home.

I guess I will go to London this time. Lots I have'nt seen there yet. I will write in London soon. There is a picture show to-night in the Y.M.C.A so I am hurrying up so I can get a seat. I have my khaki on today for the first in 4 months. I just hate the looks of it. I hope all are in the very best of health. I am not so bad. But when the M.O. ask me how I am I say I guess you would know what I would tell him, ha-ha. I wrote Pauline a few days ago, telling her I rec. the box of chocolates.

Love to all, Loving Bro Earl."

May 1, 1918, London, England - telling his Mother about a "girl he intends to marry"

"My Dear Mother,

Well Mother you will be wondering how I am getting along on my 10 days leave. I have had a wonderful fine time up to now. I sent a cable to May for 12 £. She sent an a answer back. Do you want money. This morning I sent another one saying yes right away before I go back to my Depot. I will likely get the money Friday morning. I really hope so anyway. I am right on the rocks now. The first time I have ever been broke on leave. Oh it is a funny feeling, ha-ha. Well Mother I had better tell you now. I have to sometime anyway. I have a girl and I intend to marry her. But you said I was not to get married in England so I am bringing her to dear old Canada with me. She is a lovely little girl. I know you will all love her. I don't think I could get one as good in Canada. I have been amonst a great number of girls since I left Canada. But none are like the one I have now. She is just longing for to go to Canada and some day before long you will see her. I could not waite for all my girls in Canada. I wonder what some of them will think of me, ha-ha. I sent Merelda a post card yesterday from here, hope she get it o.k. Well Mother I will close now. And will write again as soon as I get back to my Depot. I do not know what my address will be there yet. Hope all are in the very best of Health,

Bye-Bye
Your Loving Son, Earl."

May 8, 1918, 3rd C.C.D., Seaford

"Dear Merelda,

Well here I am back from my leave. I had a wonderful time in London this time. My little girl took me all over. I am at Seaford Camp, right beside the Coast. It is a very pretty camp. I am not doing any training yet. But expect to in a day or two.

Well Merelda you all will be surprise when I tell you I meet Percy Butler to-day. He did not know me at all. But I knew him allright. He is just the same as ever. He has been here for 5 weeks now. His Father died last week so he is getting 3 months leave home to help with the work. He says George Tate is in Army Post Office having a soft snap. I will put in a high old time with Percy while I am here. I great number of the 127 lads are here. This camp is only for the rest oneself up. When they are ready for Active Service they go over as reinforcements. I guess I will be sent back with my own Battalion. Well Merelda I will close for this time. But will write in a day or two. My mail is a little slow this time. Have not had any from home since I left Monk's Horton.

My address is now
Sap. N.E. Campbell
No. 779051
2nd Can. Rly Tps,
3rd C.C.D.
Seaford, Sussex, England

Percy will write to you soon. Hope all are in the best of Health. Love to all, Loving Bro Earl"

May 18, 1918 3rd C.C.D., Seaford

"Dear Merelda,

Just received a letter from you to-night. The first I had for 2 weeks. You had written it Apr. 18th and addressed it to Monk's Horton. So Harold has been at Monk's Horton to. He can't say it is a pretty place anyway. I found it a very lonesome hole. But we could go into Folkstone twice a week that livened it up a bit. Pauline had put a line or two in with your letter. She had sent me all your photos, ha-ha. Some photos too. You just ask her about them. Am glad you like the music I sent you. Good Byee is a great song among us Canucks over here and in France. Yes I heard of Harry Bovair being wounded in the great fight. But is it right about poor Roy Wells meeting his doom. I heard that he was wounded. I hope he has not gone to the dogs. He was a great chum of mine. Henry will know him well. How does Henry & Merle like the new farm in King. I have forgotten where Jim Patton's farm was. Tell them I will write to them soon. This morning I received my Birthday box from home. It is a beauty everything was jake excepting the little short-cake. It had taken sea-sick, ha-ha. I have not open the can of honey yet. Will have a feed of it before I go to bed tho. The 3 plugs of baccy looks jake to me. They will come in handy while I am doing P.T. and B.F also the route marches. They are certainly training us here. I say there must be a war on somewhere. I tried my hardest for to swing it for Canada, but nothing doing. I am too fit a guy yet. But maybe the war will be over by the time I am ready for going over again. I am not near fit enough for France yet, last week I reported sick my temperature was 101. The M.O. said Campbell you take easy for the day. Next day they had me at it hard as ever. I can't sling it around these Officers here. One just had to be about dead before they will look at you. I hate the very sights of these gentlemen as we call them. On the top of the box I found a photo of a group of Nurses, Ruth is the only one I know in it. I also rec the Laskay Red Cross box packed by Floss. And also one from the King Girls. So you see I have a great stock of eats in one hand now. Clara Ross's box to me went to France. So my chum Wellman got it. Yes I have certainly been a lucky lad for to miss that awful fight we had in France. The old 127 Batt done great work allright. They are with the best of fighters. No yellow streaks in Col. Clarke's outfit. Dad and Arch must have had been working for to get the seeding in so early. I was sure I would have been home for to help with it. Percy Butler has gone home for 3 or 4 months. His Father was killed so he has leave to go home and work the land. He is the same old boy. But is much fatter now. If I get my draft leave. I will go and see him. But chances are I will get no Draft leave. They are sending troops right over without their leave. I did not go out to Eccles. I had not Duncan's address. Eccles is a large place you know. And I don't think I would be able to find his people. How is Colin getting along farming. Has he a man? He will have to get a girl I guess, ha-ha. There are & awful bunch of these W.A.A.C girls over here. They should be sent to Canada for on the farm. Harold will know what they are like for working. What was the matter with Harold when he was sent to the Hospital? I hope he is soon better again. I have not meet any of the Miller boys yet. Well Merelda, this will be all for this time. Write to me soon and often. Love to all, and hope all are in the very best of Health. Your Loving Bro. Earl

Sap. N.E. Campbell
No. 779051
2nd Can. Rly. Tps
3rd, C.C.D
Seaford, Sussex, England"

May 28, 1918, Seaford Camp, 3rd C.C.D.

"Dear Merelda,

Well must write home again or you will be thinking I am on my way home. No chance of that tho. It is awful hard for one to get to Canada just now. Men are needed so bad in France. I am keeping away from the Drafts for France the best I can here. And will continue. How did you all spend the 24th? We had a good day of Sports here at Seaford. I was into the football. My teamtook 2nd prize out of 6 teams. I did not do any racing at all, frightened of getting beat. I have not heard from home since I left Monk's Horton. I had two boxes from home tho. My Birthday box and the Laskay R + one packed by Floss. The honey was sure a treat Merelda. I wish Mother would send me some more. Maybe she will if I keep good. We are having the best of weather here. A little to hot for drilling tho. But we have to do it. Yesterday we went on a 12 mile route march thro the country. It was some hot day to. We could not take our tunic's off or on button them. We are a bunch of hot lads allright. Most of us went into the sea for a cool off last night. How many chickens has Pauline hatched out. Tell her not to be stealing Dad's good wheat for them. She can go into the cellar and swipe cake and bread. I suppose you don't seen any airships over in Canada. There are quite a few around here. They are a lovely sight in the air. And they travel like the wind. Well Merelda I will not write any more to-day. There might be Canadian mail for me to-night. Hope so anyway. Write me as soon as you like. And tell all. Hope all is well. Au Revoir, Bro. Earl

Sap. N.E. Campbell
No. 779051
2nd Can. Rly Tps
3rd C.C. Depot
Seaford, Sussex, Blighty"

May 30, 1918, letter to Earl from Merelda in King.

We are fortunate that Earl kept and returned home with one of the letters written by his sister. In her letter Merelda writes about the young 19 year old boys being drafted and sent overseas to fight. She gives us a first hand account of life in King Twp and Canada during the war.

"My Dear Brother Earl,

Your letters to Mother & myself arrived today. We are all very sorry you have to go back to France – but cheer up, dear boy. We will all be praying for your safe return to Canada before long. Everyone things the war will be over soon. There are so many men leaving Canada now, also U.S.A. all men are called up & in A.1 training. They are calling up B. men the 19 year old boys now. The next class is all men from 19- to 45. There is sure awful times in Canada, now. I have never told you before about it Earl. When you were sick, but I had better tell you now. There will be a rebellion in Canada before long if the envirnoment does not change, terrible hard times here. People can hardly afford to live. Meat & flour is so high & we are only allowed a little of it & sugar you can hardly get at all. Oh everything is gone up so high & they are taking all the men off the farms even. Archie has to go. He went to Niagara to train yesterday. We are going to do everything to get him off. Have a lawyer employed & are doing everything the poor dear boy does not want to go. It seems so hard to see boys who do not want to go be forced to. Dave Robb is in the same fix as Archie his only brother is in France his Mother & two sisters left to work the farm of 100 acres. They are appealing his case too. The Military Service Act exempted the sole remaining son of military age with a brother overseas, disabled or killed. So Archie & Dave stand a good chance of getting off if the Gov't keep their word, but they are a rotten bunch of liars. Conscription would have been a good thing if they had left it as they promised to before the election, promised to leave one able-bodied man on 100 acres but they are not doing it. I went down with Archie Tues night. We stayed at Harold's all night & all went with him to the boat. There were a lot of boys from around here going over in A.1 class between the ages of 20 & 23. There were Archie, Pick McQuarry, Jack Orr, Fred Judge, George Miller from Pellats, Bert Snider a Kaake boy, a Woods from Nobleton. The two Hillard boys & a Gunn?? Boy an Ireland from Kleinburg & Wilson from Teston & two or three hundred I did not know. Those are all ?? f. fellows Ralph Gillies, two Wells boys, Art Bovair & Billie Grey got in the artillery & train at Ax. Camp. B. class have all to report next week. Jim & Lucky Burns have to go in that. Art Gillham & lots more. I will be glad to see a lot of that class go especially those that spouted so much for conscription. Norman McMurchy & Burns, etc. Orrs they never though they would have to go but like to see our nice young boys go. The 19 yr. old boys have to report before the 15 June – Ed Lloyd, Jack Hamilton, Jess Richards, Alfred Gillham, Vick Orr, Ike McQuarry, Harold Cain, Dick Williams & lots more. Ed. Teasdale's bunch left for Eng. yesterday. I had a letter from C. Williams today. He hates Eng. & all English things – also had a letter & photo of Fred Young to Pauline. Fred is a fine looking fellow now. I hope he gets back to Canada safely.

Now dear Earl. I am going to say something you will not like, but it does not matter. You will Thank me for it later. About that girl, you imagine you are in love with, don't you believe it. You have got roped in, the same as so many of our Canadian boys do. Harold says he was roped in the same, but got wise to it in time, before he got married to her. Also, Katie's brother he wrote home telling them off the sweet little girl he was going to marry & first thing he found out she was a married woman & had just wanted his money & succeeded in getting it too. Ask F. Platt what he thinks of the Eng girls, also Harper Wells & lots more – oh yes the Eng. Girls have lively charming ways & are sure looking out for husbands & to get their way paid to Canada, but their ways are not like our ways, they are only laughed at here & looked down on. Harold says they are alright in Eng but no good here & Archie says for you not to bring any Bade over here. The Eng. Girls know there will be nothing for them but old maids after the war is over & are looking out for a soft snap by getting some rich Canadian so they imagine, but Earl, you must think of the future, Canada is on the verge of a rebellion. The returned soldiers can't get work – living is most terribly high – farmers can't get help only 16-18 yr. old college boys & girls – imagine what they can do re the farm. Earl if you brought a wife home to Canada you could not keep her- & she could not do farm work - & Earl, if Arch has to go to the war, our farm will be sold. Dad won't work it himself & can't so Earl think seriously before you marry a wife. Anyway Earl you are so young to marry, only 23. I guess you feel old. Harold got married young & he is not getting on very well. Katie is working out now in a candy store & Harold is off work half the time, the gas is effecting him more now than it did before. So Earl have all the good times you can with the girls over there, but don't marry them or bring them to Canada & think of the nice girls here of your own kind who will be able to take care of you, & will have money too & it is a returned soldier they all want. If that girl really & truly loved you – you would not be spending your hard earned money on her – she would give you her money instead, it is her right to pay for things instead of yours.

Harold if you brought an old country girl here, she would be looked down on their ways are so different from ours. Mother will send you $5.00 this time & will send more soon. It is all she has in the house at present, & we will send you a box too, but Earl be sure & spend your money on yourself. Now Earl I hope you are not angry with me for this, but think twice before you do such a thing as get married. We shall be worrying over you until you ans. This & hoping it is not too late. Harold promised me to write you & tell you not to have any old country girl. You are too good for them. Of course you are your own boss but you can imagine what Daddie says about it. I am afraid to tell you & poor Mother is awfully worried about it. It was noised around that Lorne was married to an Eng. Girl, but is not true – it sure was the talk of the country. Uncle Aaron was awful mad about it. I am so glad it wasn't true. Well dear boy, you will think I am an awful crank, but perhaps some day you will think all the more of me for it. It is for your own self I am thinking. If the girl was an heiress it would be different but quite likely she is a poor working girl, looking out for someone to keep her. After the war it will be hard for anybody to make a living, every body is being ruined by this awful war. Canada is altogether different from what it was when you went away & will be worse soon. There will be a rebellion before another year if you could only see the newspapers, but the Gov't will not allow us to send newspapers to Eng. So the post masters tell us. If my letter was read, I guess I would land in jail for calling the gov't rotten, but it's true, Canada is going like Russia went in govt. The poor class are being kept down & the rich men can get their sons out of the army some way or other, but the poor fellows have to go. This country will run by Jews & other foreigners soon. They are not conscripted.

Now dear boy, I have said enough perhaps too much. Now ans. soon. We shall be praying & thinking of you all the time & hoping the letter is not to late.

Best love & wishes from your loving sister"

May 31, 1918 letter from Earl's sister Merle voicing her opinion on Earl's upcoming marriage.

"My Dearest Bro,

I have been thinking so much about you lately that I just have to write to you. I have been sick in bed for three days so am pretty shaky yet, but hope you can read this letter. I just heard yesterday that you were thinking about getting married, but my dear brother don't you do it for married life is hard- even if you do get the best girl in the old country she is not good enough for you. You were always such a good hearted kid besides if you come home single we can all help you along for a year or so you know if you are crippled you would have lots of homes to come to and welcome but if you had a wife it would be different then after you are back for a while and get good & strong then take some good Canadian girl. I have lived among so many English, Irish & Scotch girls in the West and there is not one as good as a Canadian. Now my dear brother take your big sisters advise and don't get tied up. Look at Harold he is worried to death trying to make enough to pay for two rooms, if he wasn't married he could often be at home for a rest but you know Daddy never did like strangers around long. We have always tried to pay for our board in some way when we are there.

It is for your own good I am telling you all this for times are so hard in Canada now we haven't made a cent since the war started and you know Henry always was a good rustler. Of course we have had so much expense, doctor bill, moving and everything costs so much to live. Just think we are paying 50 cts a lb for butter, 50 cts a dozen for eggs and 2 dollars for a piece of beef that lasts about too days and they will not sell anyone living within a mile from the store any more than 25 cts worth of sugar that is just four cups full. Just yesterday Henry was in Toronto to the Dr. and he was talking to a returned soldier & he was awful mad. He said he got married in England just a month before he came home to the nicest sweetest girl over there then last week she gave birth to a baby. It belongs to some other man, but the poor soldier cannot do anything it is too late now. SO he will have to dig into the work & support his wife and someone else's kid. It seems too bad for a soldier certainly deserves an easy time – after they come back if- any one does. Harold could have worked with Henry or Colin this spring & had a far easier time than in the city if he hadn't been married. Now my dear good hearted brother don't be vexed with me for I think far too much of you to let you do such a foolish thing without trying to stop it.

I suppose you know that Archie is at Niagara we don't know if we can get him exempt or not yet. I hope so for Mother's sake. It will go hard with her to loose another boy. And Daddy intends selling out if Archie has to go and the girls will have to get positions. Pauline & Floss will be good for office work or anything but Merelda is not very strong. I don't think she could stand a steady job. Pauline has been staying with me since I got sick. I just caught cold & it settled in my side & I couldn't walk but I am getting along fine & I guess Pauline can soon go home for they are milking a lot of cows & Dad needs her to help him since Arch is away. I will close now for you will be tired of reading this. Please write soon. Henry joins in love to you.

Merl"

Jun 1, 1918, 3rd C.C.D. Seaford, Earl writes of 250 men being paraded down to the sea for a bath.

"Dear Merelda, Well I owe you a letter now. My mail stayed a week at Monk's Horton so that is why I have been slow in getting it this time. I was sure glad to get your long letter of April 24th. You told me so much news. I wrote to C. Williams this morning maybe I will get leave to go and see him. I will be glad to see him again. I am sorry Harold is not well yet. That gas certainly stick to oneself. Quite often I feel the small bit I got last June. Yes, I don't think I will home this summer. But cheer up all. I will be home sometime, ha, ha. Fritzie has never got me yet.

Well Merelda, S.Ball of the 127 is here with me. He comes from the 3rd of King. Dad will know him. He and I are going to leave the 2nd C.R.T. At least I am going to leave the 2nd. He is leaving the 1st C.R.T. He was with Wallace Merchant the night he died. We are going to try for a transfer into the 15th Batt 48 Highlanders and 92nd Highlanders of Toronto. If we fail well we still stay as we are. I allways did want to get into the Kilties. In Feb 1916 Wallace and I missed the G.T.R. at King or we would have had been in the 134th Batt. I heard Col Clarke won the D.S.O. in this big battle. He stood on the top of the trench firing his revolver into advancing Germans. If I had had been there I might had won the V.C. , ha-ha. But I am mighty thankful I was'nt there. I might of got a R.I.P instead. Rest in Peace. If I do go back to France again the next gass or sickness I get will put me to Canada. I am sure of that. They will not send a person across to France to many times. It will be my sixth trip across if I go this time. I hear that Roy Sinclair had'not the heart to come and deserted. Am glad he was caught. He is one I just love to see go. I had a letter from Harold a few days ago. You think he will enlist again if I had to go to France. Be sure and not let him. Can't you know it into his head? He wants me to hunt a girl up for him in Folkstone. Well the next time I am in it I will. And will look Miss Nurse Bydon up allso. I think Dad got a awful price for his big cattle. What will he do with all the money, ha-ha. This afternoon we were all paraded down to the sea for a bath 250 of us. I bet we left some dirt in the sea. We are took down every week like a bund of sheep.

How is Arch getting along with the Jane up the 6th. I suppose he does a lot of fishing up at the lakes. I bet the mosquitoes bother him and her some. Lorne is trying for a transfer into the R.F.C. I guess he will make it allright. I do think I will try for it. I did have the notion once. S, Ball and I are going to have our photos taking to-gether to night. I will send you one. I have finished all my boxes. I had three in one week that's going some eh. That can of honey was dandy. I hope for another. I am sure some hog yet. But say Merelda, there is nothing so good as eats from home. The baking is far ahead of the stuff you get over in the stores here. If one wants a good fruit cake he has to pay about 10£ for one. Than it is not so good as that I get from home. Everything here is a awful price. I don't see how people live here. Eggs are 4 pence each that is 8 cents. Bread is 1£ a loaf than it is dark bread too. This war will have to end soon. Well Merelda I have a towel and a sheet to wash so I will have to close for this time. Does Mother still hunt for hen nest in the grass? It took me to find them. Hope all are well and getting along fine. Love to all, Bro Earl

Sap. N.E. Campbell
No. 779051
2nd Can. Rly Tps
3rd C. C.D
Seaford, Sussex"

 

Jun 13, 1918, 3rd C.C.D., Seaford, Sussex

"Dear Merelda & All,

I have now two letter from you and Pauline & Floss had allso put in a letter for me. I'll write them later. One was dated May 9th and the one I rec to-night May 15th telling me that Arch stands a poor chance of getting out of the army. I knew you had your ginger up when you were writing me that letter. It is not wonder you had. I know what kind of a sister you are. There are not many girls like you Merelda. Those men at the head of the Canadian Gov should all be sent in the line for a taste of soldiering. And if they have any brains at all they would not try to get the only boy at home the Father & Mother has to help with the farm. Why in the world don't they get after the yellow backs that are slinking out of it. They should have some brains hammered into their rotten heads. And if they were sent to France they would sure get some or else loose all of them. I sincerely hope Arch does'nt have to come. I wish him the very best of luck in getting off. And if he does has to sign up tell him to just listen to what I say. While in Canada report sick every morning. The back is the best to report sick on. Not to carry a pack, not to do long route."

Jun 18, 1918 postcard sent to Pauline from Earl

Postcard sent to Pauline June 18, 1918 from Earl


Jun 27, 1918, Seaford, Sussex, England letter to Pauline telling her he is no longer seeing his English girlfriend. Also in the letter Earl mentions a Doris Smith in Folkestone… see letter dated August 1, 1918 addressed to Earl from Dorrie Smith.

"Dear Pauline,

I was very glad to receive yours and Arch's letter last night. It came in very quick time this 16 days was all. No Pauline I have no Misses yet. And I will never get one over here. My little Babe happens to be no good. So I had to leave her. I never want to see her any more. Merelda is right about these English girls. She knows em far better than I do. I'll now waite until I get home. Than you can be the Best one.. get that.

Tell Arch I think it was about time he was writing to me. But I am awful sorry he is in army. Some awful government we have. I can call them a word a mile long, But I hope Dad's lawyer gets him off. Any man with brains would let him off. It makes me savage to think of those families close home who has'nt shown theirselves. Tell Arch to sling the lead as hard as he can while in training at Niagara-on the-lake. And if he does have to come. I hope Mother & Dad and the rest of you will not worry to much. Cheerio all we will all be back home soon. And then the happy times will be. I see this war will not last longer now. But don't tell Arch that. He will be in a hurry to go to Blighty. I had a letter from Fred Young today. He says he sent you a photo. He wants me to go back to the 2nd C.R.T. But I don't know if I will yet. I am leaving here to-morrow for my Base at Purfleet. There I try for a transfer into the 15th Batt. It is made up of all Toronto Hilanders, 48th, 92nd and the 134th. I have a photo of myself and S.Ball. But I hate to send it home on account of my moustache, ha-ha. I had another letter from Merle today. She gave me the deuce about the girl over here. But I think Merelda gave me a good calling down. She certainly done right tho. I see she is quite right about the English girls. They only want a Canuck so they will get a free pass to Canada. But nothing doing here now, just mark it down on the wall. Ask Harold about a Miss Doris Smith in Folkestone she invited me to her place next leave, I get. But don't think I'll go. I will go to Witley and see my old chum Sid. I am sending some badges so you can put in that cushion you said you were making for me. Well Pauline I must close now and get read for my 80 mile trip tomorrow. I will write as soon as I get there and let you know how I made out in transferring. S. Ball is going along with me. I hope you all are in the very best of health. I wrote to Merelda a few days ago telling her I rec. the $5 Mother sent me. I will hang on to it until it is necessary for me to bank it. Tell Mother & Merelda they had to use my assign pay. I know times are hard in Canada now. But there will be good times soon. I wish Arch the very best of luck in getting off. I would hate to see him come on account of Dad & Mother. I know how they would feel. But if he does come tell them to cheer-o better times are coming. Au Revoir, Love to all, Bro Earl.

My next address is this
Sap N.E. Campbell
No 779051
2nd C.R.T.
C.R.T, Depot
Purfleet, Essex England

Will send photo later."

Jul 2, 1918, letter from Earl to Merelda – missing p.1

p.2 "It was very good of Dr. Lockhart certifying that Arch was not A.1. The men that should come now are those unmarried between the ages of 25 and 35 not the ages of 19 and 24 – keep them at home for farming.

But you are right Merelda those are the lads that they know are the bravest. I bet if I was home to-night I would trisse up all the Smetzers, Folliots, Cains, Bryson's. And allso the gang of curs of yellow up the sixth. I hope Arch made out allright the 29th of May at Niagara. And I do hope poor Dave Robb get off too. I should worry a lot one could build on if the censoers opens this letter. I will not put my Reg. number down anyway."

p.3 "D.1 is what I am, that is as good as A2 in Canada. I am doing my best to keep in Blighty as long as I can. I smell a rough time in France soon again. The Yanks are going to end it by this fall. Hope so anyway because there is no one feed up on this more than I am.

Yesterday was Sports day here. I go in for everything now. I took 2nd in the 100 yds dash, only A2 men ran. And I took 1st in the 440 yds race. The prize was small. Boot blacken and button polish. I have enough to do me for the rest of the year. Some day when I am broke I will peddle it off. The ginks here all have to wear their category number on the shoulder strap. There is the A.1 class, A.2 class, A.3, B.1, B.2, B.3 and the best of all B.3.1.7.9 that is a green tag which means CANADA. That class or B.3 and B.2 have nothing to do here. They are sent to some other place and sorted out for Canada.

I wrote C. Williams a week ago but have had no answer. He must be in France with Badger. Yes G. Tate is a Lucky gink to get a job like he has. I wish I am as lucky. I have given up my notion for transferring into the R.F.C I have not put in for the 15th Battalion yet. If I have to go back again I will go with the Infantry this time. Sip Ball is going with me. And I know a few lads from Toronto in it. Alf Folliot from Aurora is in now. He transferred from the 220th into the 134th Highlanders. It is a all Kiltie regiment. One that has made a good name for itself at Vimmy Ridge over a year ago. Sip and I had our photos taken. I will send you one next week. They are not good of me tho. I can never get a good one of myself. I am allways fly catching. I like the Lady slippers and lillies you and Pauline had put in the letter. But I am afraid I can't keep them very long. All the trunk I have is my tunic pockets. My kit is knocked about so much I could not keep much in it long without going to pieces. But I must keep this last letter you have sent me. Well Merelda, I must close now. I will be anxiously waiting to hear how Arch has made out. I will write to the girls soon.

Au revoir, Best of Love and Wishes from Bro. Earl."


Jul 5, 1918, Purfleet letter to Merelda from Earl.

"Dear Merelda, I guess I owe you a letter so I will try and scribble a few lines before bed time comes. I feel pretty blue to-night. I am on the reinforcement draft for France on the 8th of this month. 950 are going over to join the 1st, 2nd, 3rd, 4th and 5th C.R.T. I made sure I would get to the 2nd again. We put in for our transfer Sip Ball and I. But it has not come thro yet. Maybe it will come thro before we leave, if not we will try when we got to our Batt. Sip is going to the 2nd this time. He thinks more of the 2nd than the 1st. Well you know it is hard to beat, ha-ha. It holds the record of the best railway troops in France. And there are 13 Batt of them. I had a letter from Lorne last night. He is at Hastings training in the R.A.F. He likes it fine. But I don't think I would tackle it. Three of the B.Coy Sergents went with him, McKettrick, Joe Watts and Saigle of Aurora. There are very few of the old boys left in B.Coy now. Locuas and Bowley wants me to hurry and get back with them. They are very good. Pals of mine. That photo of Sip Ball and myself I hate to send one home to you. It is awful of me. But will send it in the next letter I write and you all can have a good laugh at me. How is Arch. And is he out of the army yet?. I hope so anyway. There are thousands of other can take his place. They are not needed as bad as he is. I had a letter from May lately, she sent me a few snaps of the family. Say, but Madeline has grown some these last few years. And Hester looks just like her. Well Merelda I will now come to a close for this time. I will write home again before I leave. You best send me mail onto France now. The same old address will do.
Sap N.E. Campbell, 779051
B. Coy, 2nd Batt, C.R., B.E.F., France
I wrote to C.Williams and told him I could'nt get to Witley to see him. So maybe he will come up to Purfleet for the week end. I have a good notion to beat it to Witley without a pass. But I would get soak went I came back. Maybe 21 days in the clink.
Best luck and love to all, Au Revoir, Loving Bro, Earl
Write soon and tell rest."

Jul 6, 1918 postcard sent to Arch from Earl

Jul 7, 1918, King letter from Merle to Earl. Note that Earl sent his letter on June 20th and was received by Merle 17 days later.

"Dear Earl,

I received your letter of June 20th today and will get busy & answer it or you will be sending me writing paper. We have had a very cool spring & summer here so far. Henry is toasting his feet on the stove damper, but I guess we will soon get it warm enough. I have a good garden & lots of fruit here when it gets ripe. I will be busy I guess. I wish you were here to fill the top of your cap with the harvest apples & pears & etc. I guess you would have more than your cap full, eh! Hazel and Walter don't know what to make of apples growing on trees, they thought they grew like potatoes. They see lost o strange things down here & have a good time. They are both growing like weeds.

Archie had to report at Niagara on Sat. he is not home yet but I think surely we can get him off, if he has to go no one deserves to get off. For you & Harold have certainly done his share too. I have been going to send you a box but have to learn how to bake with this awful stuff we have to use called war-flour, but some of these days you shall get one, if they don't stop us sending boxes. It is hard to say what the next order will be. I don't mind using the flour & doing without meat & etc. but if it comes to not sending boxes I think that is too much for they must be needed over there."

Jul 8, 1918 Purfleet letter to Mother – informing her he is going to be leaving for France. He also mentions Ypres and the building of the Wide and narrow Gauge

"My Dear Mother,

Being this is my last night in England for a while. I must write you a few lines. We were told to-day that we would leave her to-morrow night at 10.30. We will get to Folkstone about 1 o'clock and sail for Bolougne in the night. I am glad we are crossing the Channel at night.

I received a big fat letter from Merelda to-day written June 13th. I am glad Arch is home for a while. But I only wish the Lawyer Dad has will get him out of the Army. I would not like to see Arch have to come. He is sure needed at home. They must know that the Campbell's are good soldiers. What I think of our Government is very small. They all should be shot. So Kelly won the M.M. . Well his is a sort of a fellow that would get. He is not afraid of death. I guess you have a idea what sort of boy he is. He will get a good job now. If a chap win any kind of a ribbon he gets a safty job. I will try and win some kind of a ribbon. And than I"ll get a bomb prove job, ha-ha. There are a number of the 127 lads here with jobs. But I would not asked for a job here. If they would not give me one, will I can go back to France again. I never asked for a safty job yet. And I will not start. I am sorry we lost Jim Jenkins he was a good officer to B.Coy. All the boys had a good word for him.

Now Mother, don't you be worrying about me while in France. I went thro some awful times before and I am still alive, ha-ha. I will watch myself allright. I am very good at ducking you know, ha-ha. I do not know what front our Battalion is on. I hope thye are not on the Ypres front. That's an awful place. I think they are on the Wide Gauge track now, so that will be far ahead of the narrow track.

All the track we put down in the Ypres district last summer Fritzie has it all now. But it will be no use to him because our good artillery blow it all up as they retreated. I will answer Merelda's letter when I get to our Base at Etaples in France. We may be at the Base for two weeks before we are sent to our Batt. Well Mother I will say Good Bye for this time. Merelda says that she was sending me another box. I will likely get it at the Base. Now take good care of yourself. I will not bring any girl home with me, ha-ha. I came very near getting married. But I did'nt, ha-ha. Merelda says there are lots of girls in Canada. So I will listen to her.

Write soon and tell the rest. Your Loving son, Earl."


On back page… "For Goodness sake don't show this photo of me to any people it is awful of me. But I only send it home on account of my chum Sip Brown being in it. I look as tho I am going to kill someone or to frighten to do so. You all can have a good laugh at it anyway."

Jul 11, 1918 letter to Merelda from France

"Dear Merelda. Well I arrived safe in France again. I arrived here last night. And the trip was very good. But crossing the Channel was not abit good. A very rough seas was raging. The worse I've seen yet. I was seasick to be sure. And there was not very many that was not. I feel all right now tho only I am awful lonesome. Things are different here than in Blighty you know. I have not gone to my Coy yet. But expect to go to it to-morrow. We have been to the bullring all day and I feel mighty tired. Harold will know something about the Bull ring here. I am near where I was when in Hospital wounded nearly a year ago. I was very glad to rec your fat letter in England. This will be a answer to it. I wrote to Mother the night before I sailed. I allso sent her in the letter a awful photo of myself taken with Sip Ball. Ball is here with me. He will be sent to No. 1. C.R.T to-morrow. He can't get his transfer. Say how many different kind of papers have I sent home. I try and send all kinds I get my eyes one. The Huts here in France sure give out some beautiful papers. I did not get to see C. Williams before I left. I was very sorry I could not see him. Chances are I will never see him over here. France is a large country. And allso a large number of Canadians are in it. How is Arch getting along. I can't say very much in the letter. But I do wish him the very best of luck.

Some of his Batt came over in our draft. 1st C.O.R. they ware on there shoulders. Well Merelda you thot I would be sore at you for writing such a letter as the Registered one. I am not such a one as that. You certainly told me right. How every did you know what the English girls were like. I think all the more of you for doing as you did. I will not have a English girl to go back with me. You say there are plenty waiting for me. I wonder who they are, ha-ha. Glad to hear the Egard's boys were clinked. But they should be sent over here for treatment.

I know a box from home is close to me. I will likely get it when I got up to my Coy. I was glad I did not get it at Camp in England. I would have had maybe feed it all to the fishes in the pond, ha-ha.

You can give the girls around home my address now, the same old one will be it.

Sap. N.E. Campbell,
# 779051,
B.Coy, 2nd Can. Rly Tps, B.E.F., France"

Jul 15, 1918, France letter to Merelda

"Dear Merelda, Well I am back to my Coy again. I find the boys all well. But quite a few of them are away in Hospital. I was very glad to see them again. In B.Coy the ones you know are F.Locuas, C. Bowhey, J. Allen, A.Brown. Serg Brown is trying for the R.A.F. Bowler is here, H. Jacks that is all the King lads that are here. We are on the Wide Gauge track now. It is jake here. No shells to get our wind up. I have not had any mail since I left Eng. Yet. But it will follow me over. Well this is the 16th a year ago today I was wounded. I have been out working to-day for the first since I left in June. We have a gang chinks working with our Coy. They are happy bunch of lads. But a awful lingo they have. I can understand a few of them. But I have to go some to make their language out. We are having very good weather just now. I hope it continues. Jim Allen rec his Laskay Red Cross box to-day mine will follow me from England. I sent Ella a little present not long ago from Eng. It was a centre piece. I made while in Hospital. I was sometime making it. I spoilt quite a few before I could get a decent one. I should have had sent her something long ago. I think it is the best present I could send her. Well Sis. I will now come to a finish for this time. Excuse this writing I am in France now, ha-ha. Write me as often as you can. Those big fat ones I like to get. Is Arch in safe hands yet? I hope so anyway. Be good and take good care of yourself.

Love to all at home. Au Revoir, Your Loving Bro. Earlie."

Aug 1, 1918 letter to Earl from Dorrie Smith, Heathwood Lodge, Stelling, Canterbury, Kent, England.

In a letter dated June 27, 1918 Earl makes reference to a Doris Smith " Ask Harold about a Miss Doris Smith in Folkestone she invited me to her place next leave, I get. But don't think I'll go." The following letter is from Dorrie Smith.

"Dear Mr. Campbell

I was pleased to receive your letter I'm sorry youre in France again. I'm sure after one being there 'tis hatefull to return. We in England this last few days are melting under a broiling sun. I think of you brave boys over there & discomforts you all have to put up with. My Brother has been ill again. I wish he could come on leave. I like to hear from you when you can write. I'll write again in a few days as perhaps you find letters a change out there. I'm rather busy & cannot write long at once. I do not know if Monte knew another girl in Folkstone, he was very chummy with me & when there always use to come & see us, but when he went to Ramsgate he got to know a girl called Ethel & she wrote to him when he was back in camp near F'stone before going to France second time he showed me some of her letters. Jolly nice boy Monte & a good pal. You can tell him in your next letter. I'm glad to know his Brother I often wondered what had become of him. Monks Horton is shut up now. I've got a cousin in the CASC & he's been there convalescent. Everyone left last Monday. I think the Americans are taking it over. I biked over there to some sports week ago yesterday, saw a baseball match in the evening seems to be made of chewing gum & yellowing as hard as everyone after & then I biked back alone got back about 10.. I do not get much chance for dancing to keep with it guess my partners endured agonies! I cannot write more. Mother, I & my Brother are going to a farm to. There are six girls up there they can all sing, play & dance especially one. So you bet there will be something going on "some" for. Goodbye for this time.

Yours very Sincerely Dorrie Smith"

Aug 9, 1918, Somewhere in France

"Dear Merelda, Not my ??? but I will have to something to pass away the evening. Well last night I rec two dandy boxes. One from the League packed by you. And the other one from Home. Everything is as fresh as tho it was baked a week ago. And how hungry I was for a box from home. It is sure a treat to get such boxes over here. You certainly had the tow packed well. The honey. I just had some for my supper. It is jake and the very best honey. I will certainly enjoy it as long as it last me. The three plugs of chewing comes in very hand now. You know out on the track is very hard work doing without a chew. And the stuff you get over here is rotten to chew. The tin of salmon I took out for my dinner on the track. Clarence Bowhey and I enjoyed it very much. Thanks very much Merelda. You can't imagine how much I value a box from home. Tell Mother I am keep the suite of underwear until the weather turns a bit cooler. The crawlies will not stick to it very much ha-ha. I am thinking of doing like the chinks do. They wear no shirt atall! Their bodies are colour of a penny. One cannot tell when they are sun-burnt. I wrote to Mother a couple of nights ago. I hope she get it o.k. I heard from Ruth last night. Allso had a letter from Frank Gambril. He is happy guy now. I only wish I was in his shoes now. But I must cheer up. I will soon be back again. And then the happy days, eh. Well Merelda this is two sheets is'nt it. So I will now ring off for another time. Hope all of you are in the very best of health. And getting along well. Merelda just one moment. Why not you send me a few snaps of home. I have nearly forgotten what it looks like. I would like to have some very much. Write me soon. Love to all. Au Revoir Bro Earl."

Aug 31, 1918 In France, letter to Earl from Merelda. Earl mentions that they must bury the dead before they can begin to lay the tracks.

"Dear Merelda, Well atlas I found time to write a few lines home. This is the first time I think I have miss writing home for so long. We have been so awful busy these last few wks. We are moved away for our good spot. And lovely Mackeral we have had some time coming here. We are now in no man's land. So guess you know or have a little idea of what we are doing. We had to burrie a great number of dead before we could start on building a line. I would sooner be working at the track then burring the stiffs. The job is not up to much, ha-ha. I rec a letter from Pauline before I left the other camp. She had a bunch of flowers in it. They kept well, but to be sure they were dead.

The boys are all jake so far. H.Bovair is'nt back with us yet. In the dugout I am in is A. Brown, J. Allen, B. Wilkins, C. Bowhey, F. Locuas, Jensen the Dane you have his photo at home. Fisher, Wellman and Wilson you have his photo allso. We all get along jake to-gether. Say Merelda did you know Dan McKenzie from Woodbridge. I think Dad and Henry knew him. This poor chap was killed. I forgot to tell you in my last letter. He was a fine head. And a good Sergeant. How is Dad getting along? Is Arch off for good yet? They did not keep his Batt long in Canada. Maybe I'll see some of the lads over here soon. I heard the other night from Fredie Young that Bob Carney had been wounded and sent to Blighty. I hope he makes Canada out of it. I think he was sniped by a sharp shooter. Well Mon Cherie I'll have to ring off for now. I have to get up at 3 o'clock in the morning. We are working from 3 oclock to 12 noon. That's half the Coy. The other half goes on at 12 noon to 8 at night. So you think that last photo of me was good. Well I don't think so. I think I am better looking than that, ha-ha. Don't you believe me. I'll not have any more taken until I get my 14 days leave about Jan or Feb it will be. And the war will be just about over by then. We are place now where we were when I got you a piece of music in a G.dugout. Do you remember reading of a town in flames. We are near that place, but there is not town to be seen, just dust is all what I can see of it. The first letter of it starts with a P. now think it out. So here goes for a close. And another fat letter soon.
Best of Love and Good Health to all at home.

Au Revoir, Loving Bro, Earl"

Sept 23, 1918, In the Field (written in pencil).

Earl mentions Battalions of Australian and Americans are with them.

"My Dear Mother, just a few lines to you tonight. I must let you know that I received the £4 3S 6 pence ok. I am golly glad to get it too. It will be a great help to me when I get a leave. That is if I can save it until I get my leave. I'll try my best to anyway. Our leave is cut off now. That is our Paris leave. But Blighty leave still is on. But I can't look for my Blighty leave until Jan or Feb anyway. Well we made another move we landed here last night. A dreadful looking place to. We were 3 days on the train. I sure enjoyed the trip allright. The Americans and Australians are with us now. The Yanks are a bunch of good heads. We can get any kind of tobacco from them. And it sure is best of tobacco. We have a Batt of Americans Engineers working with us. They started this afternoon. There are some big lads too. Mostly Southern lads. Some have been cowboys all their lives. I make some money out of them by selling my souviners of Fritzies. I had a card from Harold a few days ago. He wished to know if I was near the place he mentioned. Yes we were right beside that place, before we moved here. Tell Merelda I receive the Laskay R + box she packed for me. It was a dandy one. And I was as hungry as a timber wolf the day I got it. I knew she baked some of the cake which was in it. I can pick her cooking out of any box. I heard from May last week. She is near Lake Erie. I guess she will find it a pretty place in summer time. I will write to her soon. Well, Mother I guess I will close for this time. I will write home more often now. I guess we will be here for a few months now. Write to me again I always like to hear from you. And take the best of care of yourself. Good luck to all.

Love, from Loving Son Earl."

Sep 29, 1918, France letter to Pauline

"Dear Pauline

Now I have just finished my supper of stew & jam. So I think I am quite able to scribble you a sort of a letter. I know I owe you one anyway. I rec yours of Sept 7th last night. Allways had one from Ella & Colin. That Aster you had in the letter or is it a Aster. I am wearing it in my cap. Am glad to hear that Arch is still at home. There is no place like home you know. I found it out a million times. Well Pauline, Fritzie had his heart broken last night. The Yanks went over the top at them. They sure did get a licking. A licking that made Fritzie think that the Canucks were at him. All day long groups of prisoners have marched pass us. I am sure I've seen over 2000 of the dogs. Our Artillary and the French certainly put up a bombardment thro the night. One that kept me and my pals awake all night. But I did'nt mind loosing any sleep as long as we were winning. Well poor H. Jacks has been wounded. He only got it slight tho. But I guess his right arm will be stopped for writing letters for a week or two. He was hit in the arm by shrapnel. I had another letter from C. Williams. He was hit below the knee. The three shin-bones were cut in two. Am glad he did not get it in the thigh bone. So it will be a swell cushion eh. The stuff to give him eh. How does Dad & Arch look in their grey suits. Some class I say. But waite until I get my civie suit. It will be a long way off from the colour of khaki. I will wear yellow before I wear ------ again. Let me know how Arch made out in the foot-ball and foot-racing. Arch should be a wiz bang at it now. I think I am done at the short race. But I guess I can make you go some for 2 or 3 miles yet. I'll show you when I get back, ha-ha. Well Pauline it is just about dark now. And I can't keep a candle burning at nights. Some one might drop a message at us from the sky. So Au Revoir Sister. Hope all are well and doing good.

Best of love to all, Bro Earl

Write soon again."

September , 1918 Postcard from Earl to Flossie, Belgium

"Dear Flossie. Bonjour Floss how are you getting along with the weeds, suppose you are killing them while the sun shines. Have you been to the Ex this year. I am having a good time now, not guns to keep you awake at nights. And no wizz bangs to dodge from. We are only 10 minutes walk from ---------- (black out by the censor). Suppose Arch will be ploughing now or is he to busy kicking footballs with King. I hear they are the Champions this, well done for them. Does Cuttie play with them. I have not heard from May or Harold since I've been wounded, hope to hear from you all soon.

Your Bro Earl"

Oct 14, 1918 Postcard sent from Earl – French Troops

    
Earl writes on the back of the postcard: "These are French troops and very good heads they are too. Be sure and keep the card will you. I will tell you all about it when I get home. These men don't know what death is. Very brave. The lad was hit with shrapnel who I got this from. See how it is riddled up."

Oct 21, 1918, France written in pencil

"Dear Sister Merelda, I was very glad to hear from you & Harold the other day. That photo of you, Dolly, Merle, Ed and two kids of Harvey's is very good. I don't think you look old in the photo. But I do think that you are looking better than ever I've seen you. You are much fatter now than you use to be. Not so much running about I guess. You are getting wiser eh. Yes it is a good photo of you allso good of Merle H. I forget all about Dolly, Ed and Folliotts two kids. I can hardly remember their appearance. But sanferyann to me.

Glad you had a bon time at the Ex. I suppose you missed the train on purpose didn't you. Something like I use to do in olden days, ha-ha. Days that are very close again. I haven't rec Pauline & Flossies letter telling me about their trip to the Ex. But I suppose it will be here soon. Harold & wife will be in the States now I suppose. So He will spent all winter in the States. If I am home this winter he'll not I bet. How did Arch make out at Sir Henry's. Lick all up I suppose. I heard C. Williams the other day. He is at Convelsence now. Kelly is with him. And he said Sam Armstrong lost one of his strong arms in the last fight. I am sorry about poor Sam. But is sure of Canada now. His people will feel bad about it. But he is far better that way then been a stiff over here. What do you think? Sis. Am glad to hear of another box approaching this hungry boy. I wonder is that any baccy in it. Just give Arch a hint that I would like a chew of old Mac's and a small pipe full of Shamrock. Well Merelda we are having wet weather now. But I don't mind it at all as long as we are winning the war. He is sure getting a licking now. He will likely stick if for a few months yet. A few means a couple, ha-ha. I had a line from Bertha again. She is stuck on a red haired lad over here in my Coy. F. Ashbourne from Aurora. Every letter I get from her she allways tells me about him. Oh how she loves him. But I don't tell Fred that. He just hate her as much as you love chubby. I had better shut up for this time. It is nearly bed time so I will leave it as it's a long letter. But not as long as one as my big Sis Merelda writes to me. Take good care of yourself. And tell the rest to be good as they can. Write me soon,

Au Revoir, Mon Cherie, Sis, Loving Bro. Earl"

Oct 27, 1918, France letter to Pauline

Many of the soliders at the Front longed for home and as you can see from Earl's comments a simple photo of home brings back memories.

"Dear Pauline, Well I don't hardly know which of my Sisters at home to write too tonight. But I will let it slide to you this time. Yours & Flossies of Sept 30th arrived to me last night. I was glad to get a peep at the old home one more. It is a good photo. The moose horns are still on the barn. I can make out Dad standing against the fence by the veranda. But I can't make out who is bending for a pail of water. Merelda's letter of Oct 1st arrived safe to me last night allso. So I had a good nights reading. I am glad you & Flossie beat in the Ladies race at Sir H. Pellatts. You two must had went some allright. You say you were at your supper when the rest finished. I am not going to run against you anytime. If that is the speed you travel. "My word what speed" ha-ha. Maybe young Ellsworth was beside you two when you were running. He cheered you on I suppose. Do you get that News FLYS fast. What did you keep him from coming over here for? Answer that question. Maybe he had a C. Category did he. That category is 15 and under, ha-ha. I am very glad to hear that Arch got off like he has. I was thinking every day about that. He will be jake now if he watch himself. But I hope the war is all over by the time he has to report himself in Toronto. Has the hen hatched off those eggs yet? The nest Mother found I mean. They will be off in time of Xmas dinner maybe. So Floss was a returned soldier one day. I see she still has her old ways yet. I had many a fright from her by dressing up that way. But I don't think she could get my wind up now. Say has Rory Oflinn (cat) come back the second time yet. Is it a cat or man; It is a very wise thing what ever it is anyway. If I was home I would take it a hundred and umpteen miles away from home. I bet it would'nt come back then. I think you had better keep Tony. He will be a nice looking one after he grows another 3 or 4 years. I don't think much of TinkerTory tho. Sounds to much like a Fritize's name , ha-ha.

So Floss is ready for College eh, good for her. She is a better scholar than her big long brother. But she must not ever let her brain get exhausted in writing to me. She sent me two hot candy's in her letter. They were good to. My Annie was asking all about me. Why she doesn't need to ask you girls about me. I write to her every night nearly. She sent me a snap of her. She had her football suit on. What do you think of my big Annie. She is the kind to have, eh. No C. Category about her eh. Well Pauline news has just about all ran up. I should write Flossie a few lines along with this. But I guess she will not mind. My officer does'nt like to see to many letters written to the same home at the same time. I'll have to write Merelda soon tho. I owe her one now. I am glad she said she had sent me a box on the 1st. They are great things. Well must get into bed now. We are still in the blown down city yet. The French has a cinema in it . A bunch of we lads go to it at nights. Moonlight nights nothing doing at it on account of Fritzy's bombing planes. If he ever see a light burning look out. This city has been a very pretty city in peace time. The 3rd largest in France I guess. But not now tho. Well I must get in. Light but has gone. So Au Revoir, Mon Cheri Sis, Best love to all at home, Loving Bro Earl.

P.S. Write me soon again. I'll write Florence some of these days. Fredie was well the last I seen of him. B. Good to yourself."

Sample of stamp on the back of Envelope sent from King to Earl at the Front - "We're building ships to bring you home"

 

Dec 3, 1918, R.R. No. 1 King letter to Earl from Annie Sturdy.

"Dear Earl: I received your letter of Nov. 5 a few days ago. It was written just about a wk before the armistice was signed. My that is surely the greatest news the world has ever had. You seemed to know you had your job nearly finished too, eh? Well, we didn't here. I bet you would hardly be able to control yourself. By the way how did you sleep when the noise had ceased? We have just heard Harry Bovair is expected home anyday now. I wonder if he'd rather be here or over there 'now'. They say that her and Art met in Eng. Art was drafter you know.

… Annie S."

Dec 4, 1918, France Letter from Earl.

On page 3 Earl makes reference to the War being over and what it was like when the guns ceased. In this letter Earl talks about being homesick and wanting to be home. It is the first letter he has written that he signed simply "Me"

"My Dear Sister

Your welcome letter of Nov 5th arrived to me to-night. Allso Pauline's of the 12th. I am glad you all have escape that Flu so far. It is a awful sickness to have. I'll not forget when I had just a slight touch of it. It is no Bon, Merelda. I have been feeling very tough to-day. I was thinking I was getting the Trench Fever & Spanish Flu again. A chum of mine by the name of Blackwood and nicknamed Boston coaxed for me to go down to Le-Cateau Theatre. So I went along with him. I enjoyed the show fine. And now I feel jake. I guess I was only homesick all day and tho I was getting the Flu, ha.

Say Merelda, those two photos you sent along in the letter are fine. You say you will not tell me whom they are. Well I will tell you who they are. The one in Harold's khaki uniform is Miss Pauline and the tall lassie in the Conductor's uniform is Miss Floss. But to save my bacon in the morning I don't know who the lassie in White is. And I can't guess the young gentleman either. He looks like a Maple or Teston Rube tho. What do you think eh. I am surprise to see how Pauline and Floss have grown. They sure look fine. I am afraid I'll have my hands full when I get back. How ever can I handle you and those two young Sisters of mine. Arch will have to be with me tootsweet for reinforcement for me. A couple of nights ago I had a box from the Laskay R+ Mary packed mine. And say but she did pack it too. Such a heap came out of her box. She is no stingy girl I can easily see that. I am jolly glad the tart across the fields did not pack mine. Get me there, eh, ha-ha. I wrote Mary thanking her for her kindness to me. I must send her something. I'll wait until we get to Blighty tho. Presents & souviners in France are so high they nearly reach the clouds. We will likely be in Blighty in another week. All we do now is a few hours Squad & rifle drill. The French came in to Le-Cateau yesterday. They are taking our line over. They can't kick me out of this country to soon. I am fed up with the eyes on it. A homesick lad am this one, ha-ha. Take me back to Dear Old Canada. Put me on train for Toronto Town. I'll not tell you the rest, ha-ha. Pauline was saying the night they heard the War was over. The guys with their legs chopped off were climbing the tele phone poles in Toronto. Lucky the live wires hang high in the air or they might try skinning the cat on them. I'll not forget the day in this country when all the Guns ceased that noise of theirs. I turned umpteen hand springs in the air before I hit the earth. That's something all can't do, ha-ha. Well this is the 6th move I'll make sure I'll finish the letter this time. I have not started for home yet. But the time is soon now. I see by the English papers that some of the Canucks are on the way for home. Gosh I wish they would hurry up and put me on a boat for that good old Country called Canada. Well Merelda, I got another box last-night for the King people. I don't know who sent or packed it for me. So you can tell them next time you see any of them. It is very nice box I know it has been some Daisy who packed it. But she was to shy to put her name in the box for fear I might write her a few well lines of love to her – ha-ha. Oh say tell Mother I sent her a German helmet. Tin Lizzie's we call ems. I sent it about wk ago. I hope she get it ok. I put a hard tack in it for her. Floss can have it for her breakfast some morning. Tell her not to put it in boiling water for 24 hours or maybe it would get a wee soft. They are a jake biscuit for sharpen one teeth, mine are like razors now. Well Merelda, I believe I have shot you enough bull for this time. I had better save some for another time. I may be in Blighty for Xmas. But I do wish I was home for Xmas. I guess we could have a bit of skating eh. Oh gee, I am homesick so better close. I'll write Pauline, next time. Au Revoir Mon Cherie, Love to all . Will see you very soon.

Me."

Dec 13, 1918, Belgium letter to Mereleda. Earl mentions the bridge they need to rebuild blown up by the Germans the day the Armistice was signed.

"Dear Merelda & All,

Well here I am again, not on my way home yet! But hold on I am coming soon, ha-ha. We left France a few days ago. Now we are billeted in Old Belgium. In the town of Fontain-Velmont it is south east of Mons. There has been no fighting done here since 1914. All the civilians that were captured in '14 are here and they can sure tell you something about the way they were used by the Huns. My Platoon is living in a lovely Chateau 3 stoves in it, tables of all sorts. It is the best home we had in Belgium or France. The people are so kind to us too. I must tell you what the old Lady next door to us done this morning. About 6 o'clock she came in we were all sprawled out in bed on the floor. Some awake and some snoring like hogs. She made her way to the stove and put on a roasting fire for us. We were all surprise to see what she had done for us. We have allways been use to making our own fires on in the mornings. That is if we had any fuel. Very seldom we had none tho. And last night she and her husband brought us in a large dish of roasted Belgium potatoes and a picture of Belgium Beer. They said we would sleep well on that. And we sure did. The young lads and girls around here are very nice to us to. They open a dancing Hall every night. And we must go to have a dance. I am a good dancer now. But I tell you it is a funny dance and hard on to do. I am afraid of getting dizzy and going off my head. It is something like a merry-go-round to me. The whole Battalion will be here in a few days, first B. Coy is here now. We will be here for Xmas and likely be on the way home by New Years, hoy-ray, hoy-ray. They say we will sail from Ostend been it is so close to us. Ostend to New York but I don't care where we sail from as long as we get on the way for that dear old land over there. We have a big bridge to build here than we are finished. Fritz blew it up in the morning Armistice came. And they had 40 tons of explosives ready for a larger bridge the minute they got the cable. It would take us two months to build one like it if they ever blew it up. It is a bridge across the Mons river something in the style of the St. Lawrence Bridge. Only not so large, ha-ha. The bridge we have to build is about 100 ft long and about 30 ft high. Well Merelda I guess I have told you enough for this time. Let us know how you all spent Xmas. The Col will be giving the Batt a high old time here. He gave us a good time last Xmas in France. But I missed it. I had a time in Aberdeen. Well here wishing you all had a Merry Xmas and a Happy New Years. Au Revoir. Write me soon.

Love to all, Bro Earl."

Postcard sent in December 21, 1919 letter – Fontaine Velmont Bridge

This pastel drawing of a boy was also included in the Dec. 21, 1918 letter

Dec 24, 1918 – R.R. # 1, King, Pleasant View Farm from Masie to Earl. She writes of the war being over.

"Dear Earl

Don't it seems very strange to think the war is over and all the awful worry is a thing of the past. I am sure you fellows was glad when peace was proclaimed. Toronto went mad corn starch and talcum powder was tavished on everybody. Do you know knox was brought out and everyone you met was covered white, such a time it was awful.

Well Earl I wish you had been here Saturday night Dec 23 is Albert birthday. We had a crowd and played all kind of games until 12 o'clock we certainly had immense time. Art Walker and family were here. The flue is very bad around here Folliott all have it, Hamilton all have it George & Mrs Patton and Gertie or down with it and lots of other. We have escaped it so far. Our crops turned very good (very heavy). We had 600 bags of potatoes and lots of roots. Jesse is teaming the potatoes to Toronto they are a good price. Well Earl I am sending you a snap. I want you to tell me who they are. They were sent to me. We were expecting you home for Xmas and don't see why they will not let you come. I am sure the folks at home will be glad of your home coming. There will be a welcome for you anyway for you have done your duty for King and country. Now Earl as you may have time see all you can while over there for it is your last chance and them huns how they skunk the coward they are (they are beaten)

Mother is stuffing two ducks for to-morrow (Christmas). Well Earl it is shame that I don't write oftener for really I have been very busy. Dear Earl I hope you have escaped. News is getting very scarce. Will close. Hoping you are well as us. We join in wishing you a Merry Christmas and a prosperous New Year. I remain as ever your Friend,

Maisie Richards

P.S. Remember us to the other fellows around King & Laskay"

Dec 28, 1918,

"Dear Brother

Just a few lines to you to-day, hoping this finds you in the best of health and on your way for home. Well Earl I am writing this in bed. A queer place to write letters in isn't it. I wouldn't be hear if I could help it but it is the Doctor's orders, for I was taken with the Influenza on Christmas night I never slept a wink. My legs, arms, back and head did nothing but throb. The next morning we got the Doctor. Doctor Lockard was sick so he sent a new Doctor.
The other pages were missing.

Dec 29, 1918 Belgium, Earl writes of coming home the 1st of January.
Dear Mother, Just a few more lines from this Country again. I guess this will be my last letter from France to you. News is going around that we sail for England 1st Jan. It is good news for this lad allright. I'll soon be home again. I'll be home before my Birthday I think. Clarence Bowhey and Frank Locuas, Jack Stubbs went a week ago. Several more of my comrades went also. Old B.Coy is very small now.

Well Mother what kind of a time did you all have Xmas. I hope you had a jolly time. I will have my next Xmas with you. We had a fine time her on Xmas. A big table was set out for us. And plenty of goose, mutton, beef, oranges, apples, beer, wine. Oh we had everything that day. Just the two Coys are here in this town. D Coy and B. A and C are 10 or 15 miles from here. The people here are awful good to us. They sure think a great deal of the Canadians. We are the first British troops they have seen in this war. The Germans had this town and all the people in their hands since 1914.

I visit one family every night. They are learning me French & Belgium language. At least the only daughter of the family is, ha-ha. I allso learn her English. She is bound to go to Canada after I go back. She looks a great deal like Pauline. I think that is why Yek as she calls me took a fancy to her, ha-ha.

Well Mother, I see the Xmas box you sent. A dandy one to, that honey and butter was a fine treat. And Merelda can sure make good ginger snaps and Xmas cake. I am using the blue pencil Floss sent me. The time is close so when Yek will not need a pencil or pen. Well Mother, I must close now. I hope this is my last letter to you & all form this Country. Hope to see you all again very soon. Best love and good wishes to all at home.

Bye-Bye
Your Loving Son, Earl"